NGDC Marine Geology Data Archive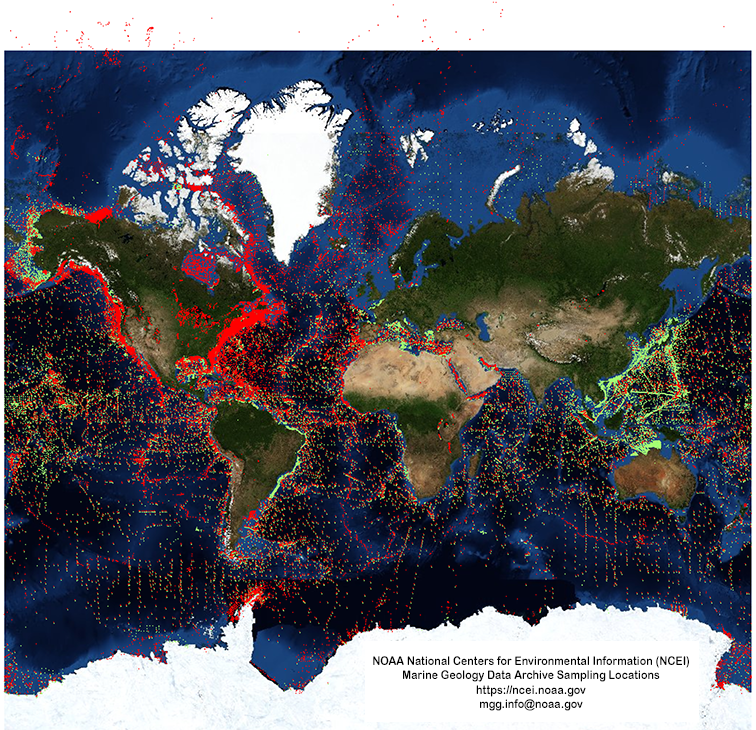 data locations
Marine Geologic data compilations and reports in the NGDC archive are from academic and government sources around the world. Over eight terabytes of analyses, descriptions, and images of sediment and rock from the sea floor and lakebeds are available. Examples of data available include sediment/rock composition, physical properties, petrology/mineralogy, geochemistry, paleontology, paleomagnetism, x-rays, photographs, and other imagery. All reports and data, regardless of format, are accessible via the Marine Geology Digital Inventory and/or linked to the Index to Marine and Lacustrine Geological Samples (IMLGS). Searches offer free, immediate download of digital data, many images, and .PDF reports, and information on how to obtain full-resolution images from the archive, and order CD-ROMs, microfilm, or oversize charts. Some larger data sets, including the IMLGS, have their own web interfaces. The IMLGS provides searches of sea floor and lakebed cores, grabs, dredges, and drill samples available from sample repositories at partner institutions, with links to browse and download related information from NGDC and other sources.
Cite this dataset when used as a source.
NGDC Marine Geology Data Archive
Search and Download
Distribution Formats

Text (Version: UTF-8)
PDF
TIF
JPG
WMS (Version: 1.3.0)

Distributor
DOC/NOAA/NESDIS/NGDC > National Geophysical Data Center, NESDIS, NOAA, U.S. Department of Commerce

Point of Contact
DOC/NOAA/NESDIS/NGDC > National Geophysical Data Center, NESDIS, NOAA, U.S. Department of Commerce
(303) 497-6339
geology.info@noaa.gov

Author
Originator

Multiple projects, institutions, and agencies worldwide


Publisher

National Geophysical Data Center, NOAA

Date(s)

publication: 1976-07-06
revision: 2014-04-15

Edition:
First
Data Presentation Form:
digital

Dataset Progress Status
inProgress
Data Update Frequency:
Irregular - Additions as new data are received.
Supplemental Information:
Many data reports were received as paper copies, on 35-mm or 16-mm microfilm, or microfiche. All paper reports have been scanned to PDF and some microfilm reports are also available as PDF, however some reports are obtainable only offline in their original form.
Purpose:
Research in global change, benthic habitats, mineral resources, and environmental processes.
Use Limitations

Please cite the originator of the data set, the date downloaded, and the National Geophysical Data Center, NOAA, as the source of the data.

Produced by the NOAA National Geophysical Data Center. Not subject to copyright protection within the United States.
Time Period:
1930-01-01 to 2013-11-29
Spatial Reference System:
urn:ogc:def:crs:EPSG:4326
Spatial Bounding Box Coordinates:

N: 90.0

S: -90.0

E: 180.0

W: -180.0

Spatial Coverage Map:
Themes

Databases
Scientific archives
Electronic records
Oceanography
Ocean bottom
Geology
Submarine geology
Marine sediments
Geochemistry
Marine mineral resources
Manganese nodules
Marine geology
Rock and sediment lithology and mineralogy
Rock and sediment chemistry
Rock and sediment physical properties
Underwater photography
Geothermal measurements
Sea-floor characteristics
lacustrine sediments
EARTH SCIENCE > Oceans > Marine Sediments > Geotechnical Properties
EARTH SCIENCE > Oceans > Marine Sediments > Sediment Chemistry
EARTH SCIENCE > Oceans > Marine Sediments > Sediment Composition
EARTH SCIENCE > Oceans > Marine Sediments > Sedimentary Textures
EARTH SCIENCE > Paleoclimate > Ocean/Lake Records > Boreholes
EARTH SCIENCE > Paleoclimate > Ocean/Lake Records > Isotopes
EARTH SCIENCE > Paleoclimate > Ocean/Lake Records > Microfossils
EARTH SCIENCE > Paleoclimate > Ocean/Lake Records > Paleomagnetic Data
EARTH SCIENCE > Paleoclimate > Ocean/Lake Records > Sediments
EARTH SCIENCE > Solid Earth > Geochemistry > Major Elements
EARTH SCIENCE > Solid Earth > Geochemistry > Minor Elements
EARTH SCIENCE > Solid Earth > Geochemistry > Trace Elements
EARTH SCIENCE > Solid Earth > Geomagnetism > Paleomagnetism
EARTH SCIENCE > Solid Earth > Rocks/Minerals > Age Determinations
EARTH SCIENCE > Solid Earth > Rocks/Minerals > Igneous Rocks
EARTH SCIENCE > Solid Earth > Rocks/Minerals > Metamorphic Rocks
EARTH SCIENCE > Solid Earth > Rocks/Minerals > Sedimentary Rocks
EARTH SCIENCE > Solid Earth > Rocks/Minerals > Sediments
EARTH SCIENCE > OCEANS > Marine Sediments > Stratigraphic Sequence
EARTH SCIENCE > PALEOCLIMATE > Ocean/Lake Records > Stratigraphic Sequence

Data Centers

WDC/MGG, BOULDER > World Data Service for Geophysics, Boulder
DOC/NOAA/NESDIS/NGDC > National Geophysical Data Center, NESDIS, NOAA, U.S. Department of Commerce

Platforms

In Situ Ocean-based Platforms > SHIPS

Instruments

In Situ/Laboratory Instruments > Corers > CORING DEVICES
In Situ/Laboratory Instruments > Samplers > DREDGING DEVICES
In Situ/Laboratory Instruments > Samplers > Grabbers/Traps/Collectors > GRAB SAMPLERS
In Situ/Laboratory Instruments > Corers > ROCK CORERS
In Situ/Laboratory Instruments > Corers > SEDIMENT CORERS
In Situ/Laboratory Instruments > Samplers > Trawls/Nets > BOTTOM TRAWL

Places

Solid Earth > Crust
Geographic Region > Global Ocean
Vertical Location > Sea Floor

Projects
| | |
| --- | --- |
| Use Constraints | While every effort has been made to ensure that these data are accurate and reliable within the limits of the current state of the art, NOAA cannot assume liability for any damages caused by any errors or omissions in the data, nor as a result of the failure of the data to function on a particular system. NOAA makes no warranty, expressed or implied, nor does the fact of distribution constitute such a warranty. |
| Access Constraints | Access to this dataset is unrestricted. |
| Fees | |
| | |
| --- | --- |
| Source Datasets | |
| Lineage Statement | Lineage prior to transfer to NGDC is unknown. |
| Processing Environment | Native Dataset Environment: ASCII text |
Metadata Last Modified: 2015-03-19
For questions about the information on this page, please email: geology.info@noaa.gov