Water Column Sonar Data Collection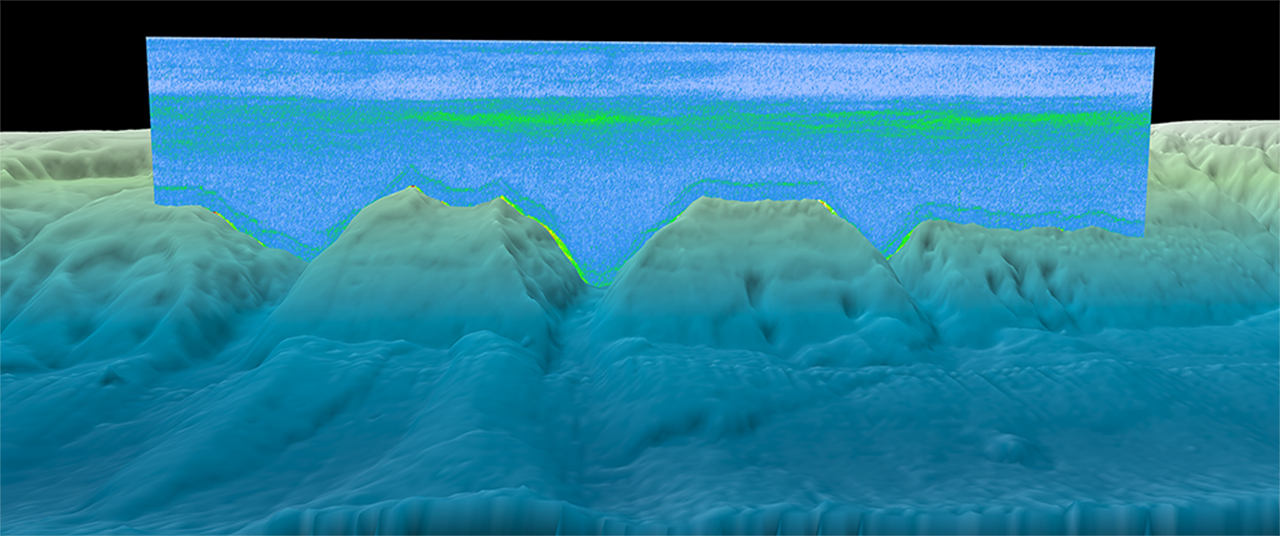 Image of water column sonar data collected on the NOAA ship Okeanos Explorer
The collection and analysis of water column sonar data is a relatively new avenue of research into the marine environment. Primary uses include assessing biological abundance, species identification,and habitat characterization. It is also useful for evaluating underwater gas seeps, characterizing the seafloor and bathymetry. The goals of this collection are to archive water column sonar data collected on NOAA, academic and international fleets, and to make the data available to researchers and the public around the world.
Cite as: National Centers for Environmental Information: Water Column Sonar Data Collection. National Centers for Environmental Information, NOAA. doi:10.7289/V5HT2M7C [access date]
| | |
| --- | --- |
| Search and Download | |
| Distribution Formats | Raw instrument files(.raw, .wcd) |
| Distributor | Distributor information not available |
| | No point of contact available for this dataset |
Documentation links not available.
| | |
| --- | --- |
| Resource Provider | Dataset contact information not available |
| Publisher | Publisher information not available. |
| Date(s) | |
| Dataset Progress Status | On Going |
| Data Update Frequency: | Irregular - Updated as needed |
| Purpose: | The intent of the Water Column Sonar Data Collection is to archive and make available water column sonar data to researchers and the public for a wide variety of uses such as fisheries studies, ocean properties and seafloor characteristics. |
Time Period:
2001-07-15 to Present
Spatial Bounding Box Coordinates:

N: 88.4598445534747

S: -9.99549333357394

E: 180

W: -180

Spatial Coverage Map:
Themes

EARTH SCIENCE > Oceans > Ocean Acoustics > Acoustic Scattering
EARTH SCIENCE > Oceans > Aquatic Sciences > Fisheries
EARTH SCIENCE > Oceans > Bathymetry/Seafloor Topography > Bathymetry
EARTH SCIENCE > Biosphere > Aquatic Ecosystems
"EARTH SCIENCE > Biosphere > Aquatic Ecosystems > Marine Habitat
EARTH SCIENCE > Biosphere > Aquatic Ecosystems > Benthic Habitat
EARTH SCIENCE > Biosphere > Aquatic Ecosystems > Pelagic Habitat
EARTH SCIENCE > Oceans > Bathymetry/Seafloor Topography > Seafloor Topography

Instruments

In Situ/Laboratory Instruments > Profilers/Sounders >Acoustic Sounders >WCMS >Water Column Mapping System

Places
| | |
| --- | --- |
| Use Constraints | Cite as: National Centers for Environmental Information: Water Column Sonar Data Collection. National Centers for Environmental Information, NOAA. doi:10.7289/V5HT2M7C [access date] |
| Access Constraints | Data is publicly available and free to use |
| Fees | |
| | |
| --- | --- |
| Lineage Statement | Lineage statement not available. |
| Processing Steps | The primary data in this collection consists of raw instrument files that were submitted to NGDC for archive. in addition, ancillary files such as water column profile data are also included. these files were submitted to NGDC through hard drive delivery, R2R or ftp. When possible, checksum values are compared to verify file integrity before being added to the archive. No other processing or quality control steps are applied ot data. |
Metadata Last Modified: 2015-09-17
For questions about the information on this page, please email: