International Bathymetric Chart of the Arctic Ocean, Version 1.0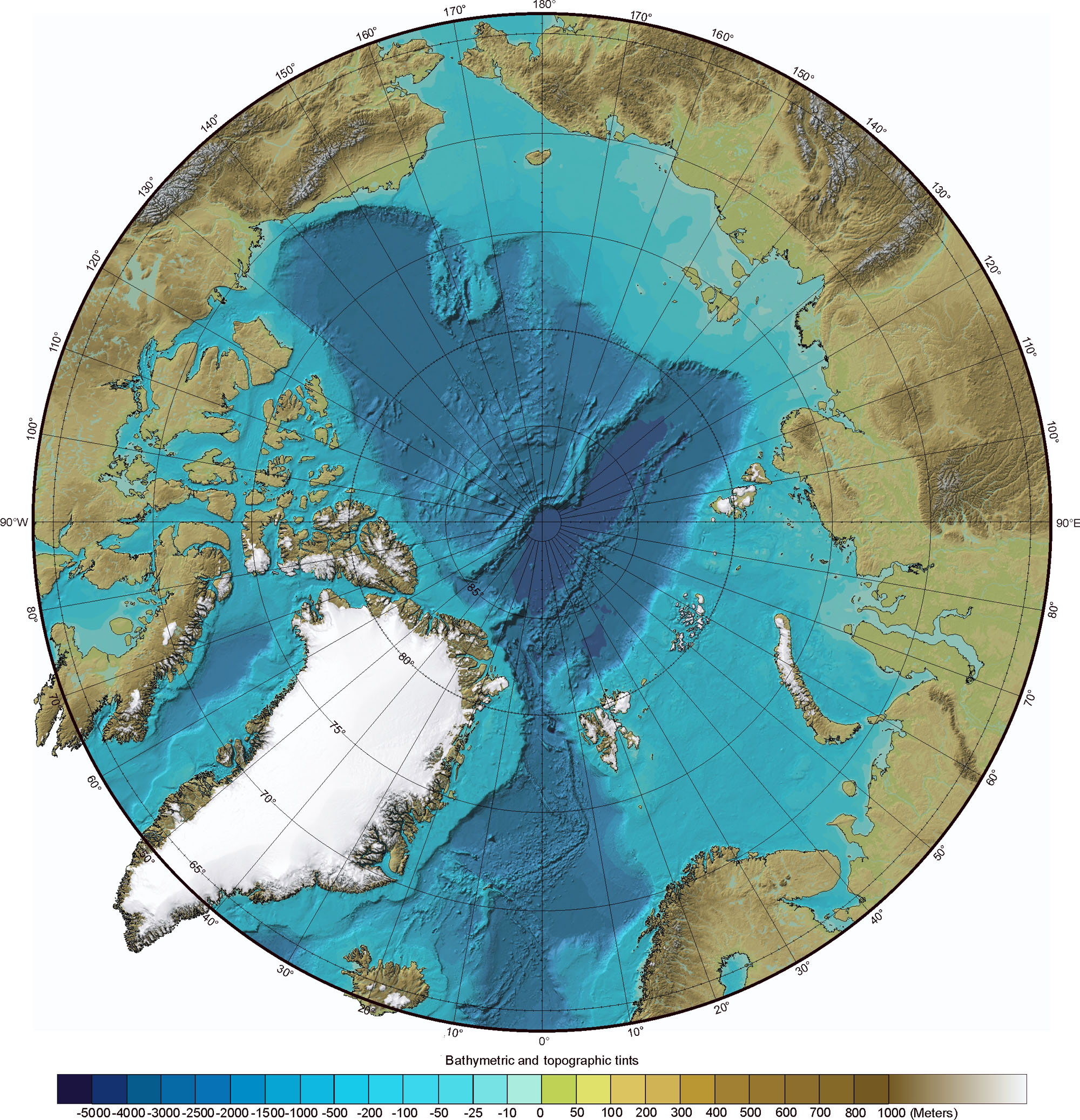 IBCAO v1.0 Map of Arctic Ocean Bathymetry
The goal of this initiative is to develop a digital data base that contains all available bathymetric data north of 64 degrees North, for use by mapmakers, researchers, and others whose work requires a detailed and accurate knowledge of the depth and the shape of the Arctic seabed. Initiated in 1997, this undertaking has so far engaged the volunteer efforts of investigators who are affiliated with eleven institutions in eight countries: Canada, Denmark, Germany, Iceland, Norway, Russia, Sweden, and the USA. The activity has also been endorsed and/or supported financially by the Intergovernmental Oceanographic Commission (IOC), the International Arctic Science Committee (IASC), the International Hydrographic Organization (IHO), the US Office of Naval Research (ONR), and the US National Geophysical Data Center (NGDC).
Cite this dataset when used as a source.
Search and Download
Distribution Formats

Geographic Contours
Geographic Grids
Geographic Plots and Images
Polar Contours
Polar Grids
Polar Plots and Images

Distributor
DOC/NOAA/NESDIS/NGDC > National Geophysical Data Center, NESDIS, NOAA, U.S. Department of Commerce

Point of Contact
DOC/NOAA/NESDIS/NGDC > National Geophysical Data Center, NESDIS, NOAA, U.S. Department of Commerce
dem.info@noaa.gov

Associated Resources

Improvements to the International Bathymetric Chart of the Arctic Ocean (IBCAO): Updating the Data Base and the Grid Model
International Bathymetric Chart of the Arctic Ocean: Technical Reference and User's Guide
Originator

IOC (Intergovernmental Oceanographic Commission)


Originator

UNH-CCOM (University of New Hampshire - Center for Coastal & Ocean Mapping)


Publisher

Publisher information not available.

Date(s)
Edition:
version 1.0
Dataset Progress Status
Complete
Data Update Frequency:
As needed
Purpose:
International Ocean Mapping
Use Limitations

Not to be used for navigation. Although these data are of high quality and useful for planning and modeling purposes, they are not suitable for navigation. For navigation, please refer to the NOS nautical chart series.

Produced by the NOAA National Geophysical Data Center. Not subject to copyright protection within the United States.

While every effort has been made to ensure that these data are accurate and reliable within the limits of the current state of the art, NOAA cannot assume liability for any damages caused by any errors or omissions in the data, nor as a result of the failure of the data to function on a particular system. NOAA makes no warranty, expressed or implied, nor does the fact of distribution constitute such a warranty.
Time Period:
1997-01-01 to 2001-01-01
Spatial Reference System:
urn:ogc:def:crs:EPSG::4326
Spatial Bounding Box Coordinates:

N: 90

S: 64

E: 180

W: -180

Spatial Coverage Map:
Themes

Earth Science > Oceans > Bathymetry/Seafloor Topography > Seafloor Topography
Earth Science > Oceans > Bathymetry/Seafloor Topography > Bathymetry
Earth Science > Oceans > Bathymetry/Seafloor Topography > Water Depth
Earth Science > Land Surface > Topography > Terrain Elevation
Earth Science > Land Surface > Topography > Topographical Relief
Earth Science > Oceans > Coastal Processes > Coastal Elevation
DEM > Digital Elevation Model
DOC/NOAA/NESDIS/NGDC > National Geophysical Data Center, NESDIS, NOAA, U.S. Department of Commerce
WDC/MGG, BOULDER > World Data Center for Marine Geology and Geophysics, Boulder
Coastal Relief
Gridded elevations
Integrated bathymetry and topography
DATA ANALYSIS AND VISUALIZATION > GEOGRAPHIC INFORMATION SYSTEMS > WEB-BASED GEOGRAPHIC INFORMATION SYSTEMS
DATA MANAGEMENT/DATA HANDLING > DATA SEARCH AND RETRIEVAL
DATA ANALYSIS AND VISUALIZATION > VISUALIZATION/IMAGE PROCESSING
DATA ANALYSIS AND VISUALIZATION > GEOGRAPHIC INFORMATION SYSTEMS > WEB-BASED GEOGRAPHIC INFORMATION SYSTEMS
DATA MANAGEMENT/DATA HANDLING > DATA SEARCH AND RETRIEVAL
DATA ANALYSIS AND VISUALIZATION > VISUALIZATION/IMAGE PROCESSING

Places

Continent > North America > Canada
Continent > North America > Greenland
Continent > North America > United States > Alaska
Continent > Europe > Northern Europe
Continent > Europe > Eastern Europe > Russia
Geographic Region > North Hemisphere
Geographic Region > Polar
Ocean > Arctic Ocean
Ocean > Arctic Ocean > Barents Sea
Ocean > Arctic Ocean > Beaufort Sea
Ocean > Arctic Ocean > Chukchi Sea
Vertical Location > Land Surface
Vertical Location > Sea Floor
| | |
| --- | --- |
| Use Constraints | No constraint information available |
| Fees | $18.00 plus handling None |
| | |
| --- | --- |
| Lineage Statement | Lineage statement not available. |
Metadata Last Modified: 2015-03-20
For questions about the information on this page, please email: kelly.carignan@noaa.gov