PETROS - Worldwide Databank of Major Element Chemical Analyses of Igneous Rocks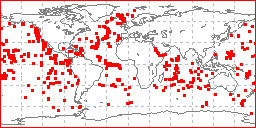 sample locations in study area
PETROS is a worldwide data bank of major element chemical analyses of igneous rocks compiled for research and teaching purposes by Dr. Felix Mutschler and Staff at Eastern Washington University. PETROS version 6.1 includes 37,300 major element chemical analyses divided into 307 major groups representing geographic areas or petrologic provinces. The data are for 4,512 cores, grabs and dredges. Also included are 468 average igneous rock compositions calculated by various authors, a bibliography of information sources, and complete format/operating instructions for PETROS. In compiling PETROS, as few analyses as possible were rejected, allowing data bank users to exercise their own judgment on data values. Sources include published works, theses, and in a few cases, unpublished analytical data, all of which are referenced in the bibliography. Generally, only those analyses which included determinations of at least eight major oxides were accepted. Some quality control was exercised, and duplicate analyses, where possible were eliminated. Latitude/longitude information for samples is to the nearest one degree. An accompanying program listing in FORTRAN for searching PETROS is included with the data file, along with complete format documentation.
Cite as: Mutschler, F.E., Rougon, D.J., Lavin, O.P., and R.D. Hughes (1981): PETROS version 6.1 Worldwide Databank of Major Element Chemical Analyses of Igneous Rocks. National Geophysical Data Center, NOAA. doi:10.7289/V5QN64NM [access date]
Originator

Dr. Felix Mutschler
Eastern Washington University


Collaborator

Denise Jeanne Rougon
Eastern Washington University


Collaborator

Owen P. Lavin
Eastern Washington University


Collaborator

Roger D. Hughes
Eastern Washington University


Publisher

National Geophysical Data Center, NOAA

Date(s)

publication: 1977-01-01
revision: 1981-05-15

Edition:
6.1
Data Presentation Form:
Digital table - digital representation of facts or figures systematically displayed, especially in columns

Dataset Progress Status
Complete
Data Update Frequency:
Not planned - No additional versions or updates are planned by the authors.
Supplemental Information:
A FORTRAN program "KEYBAM" accompanies the data
Purpose:
Research and Instruction
Use Limitations

Produced by the NOAA National Geophysical Data Center. Not subject to copyright protection within the United States.
Time Period:
1977-01-01 to 1981-04-30
Spatial Reference System:
urn:ogc:def:crs:EPSG:4326
Spatial Bounding Box Coordinates:

N: 76

S: -69

E: 180

W: -180

Spatial Coverage Map:
Themes

Scientific archives
Electronic records
Geology
Submarine geology
Marine geology
EARTH SCIENCE > Solid Earth > Geochemistry
EARTH SCIENCE > Solid Earth > Geochemistry > Major Elements
EARTH SCIENCE > Solid Earth > Rocks/Minerals > Igneous Rocks

Data Centers

WDC/MGG, BOULDER > World Data Center for Marine Geology and Geophysics, Boulder
DOC/NOAA/NESDIS/NGDC > National Geophysical Data Center, NESDIS, NOAA, U.S. Department of Commerce

Platforms

In Situ Ocean-based Platforms > SHIPS
In Situ Ground-based Platforms > Field Surveys

Instruments

In Situ/Laboratory Instruments > Samplers > DREDGING DEVICES
In Situ/Laboratory Instruments > Samplers > Grabbers/Traps/Collectors > GRAB SAMPLERS
In Situ/Laboratory Instruments > Corers > ROCK CORERS

Places

GEOGRAPHIC REGION > GLOBAL

Projects
| | |
| --- | --- |
| Use Constraints | Use of this dataset is unrestricted. |
| Access Constraints | Access to this dataset is unrestricted. |
| Other Constraints | Cite as: Mutschler, F.E., Rougon, D.J., Lavin, O.P., and R.D. Hughes (1981): PETROS version 6.1 Worldwide Databank of Major Element Chemical Analyses of Igneous Rocks. National Geophysical Data Center, NOAA. doi:10.7289/V5QN64NM [access date] |
| Fees | |
| | |
| --- | --- |
| Source Datasets | |
| Lineage Statement | Multiple versions of PETROS were archived, version 6.1 was the final, authoritative version from the author. |
| Processing Environment | Native Dataset Environment: ASCII text |
Metadata Last Modified: 2014-09-24
For questions about the information on this page, please email: geology.info@noaa.gov