Counts of Foraminifera from Selected North Atlantic Cores, LDEO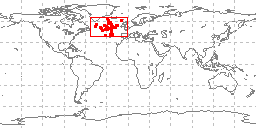 sample locations in study area
Counts of primarily planktonic foraminifera from Dr. W.F. Ruddiman and staff at the Lamont-Doherty Earth Observatory of Columbia University are included in these files. Some diatom observations made by Dr. C. Sancetta of LDEO are also included. The data set consists of approximately 35 files of faunal counts including core id., latitude, longitude, water depth, and appropriate transfer function. Data also include depth in core, count of total species, total abundance, case condition for count, core type code, and faunal code. A taxonomic overview is included, along with complete documentation. Associated Sea Surface temperature estimates are also included. These data were originally submitted to NOAA's National Geophysical Data Center (NGDC) for archive and subsequently transferred to NOAA's National Climatic Data Center (NCDC) Paleoclimatology Group for stewardship. These data are available for direct download from NCDC.
Cite this dataset when used as a source.
Online Access

Data files and documentation (download)
Web page of information about the database including links to full documentation and free data download.

Distribution Formats
Distributor
DOC/NOAA/NESDIS/NCEI > National Centers for Environmental Information, NESDIS, NOAA, U.S. Department of Commerce

Dataset
No POCs available for this dataset
Date(s)

publication: 1991-12-31
revision: 1991-12-31

Edition:
First
Data Presentation Form:
Digital table - digital representation of facts or figures systematically displayed, especially in columns

Dataset Progress Status
Complete
Data Update Frequency:
Not planned - Completed data set, no additions planned.
Purpose:
Paleoceanographic Research
Use Limitations

Please cite the originator of the data set, the date downloaded, and the National Centers for Environmental Information, NOAA, as the source of the data.

Produced by the NOAA National Centers for Environmental Information. Not subject to copyright protection within the United States.
Originator(s)

William F. Ruddiman


Lamont-Doherty Earth Observatory (LDEO)



Connie Sancetta


Lamont-Doherty Earth Observatory (LDEO)




Publisher(s)

DOC/NOAA/NESDIS/NCEI > National Centers for Environmental Information, NESDIS, NOAA, U.S. Department of Commerce
Time Period:
1991-12-31 to 1991-12-31
Spatial Reference System:
urn:ogc:def:crs:EPSG:4326
Spatial Bounding Box Coordinates:

N: 64.9

S: 41

E: -9.183

W: -46.2

Spatial Coverage Map:
Theme keywords

Scientific archives
Electronic records
Oceanography
Ocean bottom
Geology
Submarine geology
Marine sediments
Marine geology
Sea-floor characteristics
EARTH SCIENCE > Paleoclimate > Ocean/Lake Records > Isotopes
EARTH SCIENCE > Paleoclimate > Ocean/Lake Records > Microfossils
EARTH SCIENCE > Paleoclimate > Ocean/Lake Records > Stratigraphic Sequence
EARTH SCIENCE > Oceans > Marine Sediments

Data Center keywords

WDC/PALEOCLIMATOLOGY, BOULDER > World Data Center for Paleoclimatology, Boulder
DOC/NOAA/NESDIS/NCEI > National Centers for Environmental Information, NESDIS, NOAA, U.S. Department of Commerce
DOC/NOAA/NESDIS/NGDC > National Geophysical Data Center, NESDIS, NOAA, U.S. Department of Commerce

Platform keywords

In Situ Ocean-based Platforms > SHIPS

Instrument keywords

In Situ/Laboratory Instruments > Corers > CORING DEVICES
In Situ/Laboratory Instruments > Corers > SEDIMENT CORERS

Place keywords

VERTICAL LOCATION > SEA FLOOR
OCEAN > ATLANTIC OCEAN

Project keywords

Unknown
ICSU-WDS > International Council for Science - World Data System
| | |
| --- | --- |
| Use Constraints | While every effort has been made to ensure that these data are accurate and reliable within the limits of the current state of the art, NOAA cannot assume liability for any damages caused by any errors or omissions in the data, nor as a result of the failure of the data to function on a particular system. NOAA makes no warranty, expressed or implied, nor does the fact of distribution constitute such a warranty. |
| Access Constraints | Access to this dataset is unrestricted. |
| Fees | |
Lineage information for: dataset

| | |
| --- | --- |
| Lineage Statement | Data originally submitted to NOAA's former National Geophysical Data Center (NGDC) then transferred to the former National Climatic Data Center (NCDC) Paleoclimatology for stewardship, both centers are now part of NOAA's National Centers for Environmental Information (NCEI). Processing and lineage prior to transmission to NGDC are unknown. |
| Processing Environment | |
| Source Datasets | |
Lineage information for: repository

| | |
| --- | --- |
| Processing Steps | 2015-04-22T00:00:00 - NOAA created the National Centers for Environmental Information (NCEI) by merging NOAA's National Climatic Data Center (NCDC), National Geophysical Data Center (NGDC), and National Oceanographic Data Center (NODC), including the National Coastal Data Development Center (NCDDC), per the Consolidated and Further Continuing Appropriations Act, 2015, Public Law 113-235. NCEI launched publicly on April 22, 2015. |
Acquisition Information (collection)

| | |
| --- | --- |
| Instrument | In Situ/Laboratory Instruments |
| Platform | In Situ Ocean-based Platforms > SHIPS |
Last Modified: 2015-12-31