NOAA and MMS Marine Minerals Geochemical Database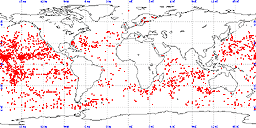 sample locations in study area
The Marine Minerals Geochemical Database was created by NGDC as a part of a project to construct a comprehensive computerized bibliography and geochemical database as a Cooperative effort with the Ocean Minerals and Energy Division of the National Ocean Service of NOAA, and the Office of Marine Minerals and International Activities (INTERMAR) of the Minerals Management Service. The marine minerals project was begun in April of 1983, and ended in 1991. Active compilation of the bibliography ended at NGDC in the fall of 1991. Coding of geochemical analyses at NGDC ended in 1989. The marine minerals database contains geochemical analyses and auxiliary information on present-day marine deposits of primarily ferromanganese nodules and crusts, but also contains some data for heavy minerals, and phosphorites. The NOAA & MMS Marine Minerals CDROM data set, funded by INTERMAR, containing the marine minerals geochemical database and bibliography with access software for PC and Macintosh platforms was released by NGDC in October of 1991. Sources of data include the historic Scripps Institution of Oceanography (SIO) manganese nodule analysis file, the CNEXO ferromanganese nodule analysis file, ferromanganese crust data compiled by the U.S. Geological Survey, and data coded at NGDC from the scientific literature. A placer data set from the USGS is also included. The ferromanganese nodule/crust portion of the database contains over 140,000 element/oxide analyses. Approximately 1,400 heavy mineral analyses and fewer than 300 phosphorite analyses are in the database. The geochemical database is described online through the NGDC server.The geochemical database has been corrected and updated by the International Seabed Authority, sponsored by the United Nations - their geochemical database supersedes the NGDC database.
Cite as: Grant, J. Bruce, Moore, Carla J., Alameddin, George, Chen, Kuiying, and Mark Barton (1992). The NOAA and MMS Marine Minerals Geochemical Database. National Geophysical Data Center, NOAA. doi:10.7289/V52Z13FT
Search and Download

Data files (download)
download selected data sets from the database online, for all data order the CD-ROM

Distribution Formats
Distributor
DOC/NOAA/NESDIS/NGDC > National Geophysical Data Center, NESDIS, NOAA, U.S. Department of Commerce

Point of Contact
DOC/NOAA/NESDIS/NGDC > National Geophysical Data Center, NESDIS, NOAA, U.S. Department of Commerce
(303) 497-6339
geology.info@noaa.gov

Principal Investigator

J. Bruce Grant
National Geophysical Data Center


Collaborator

Mark Barton
University of Colorado, Boulder


Collaborator

George Alameddin
Cooperative Institute for Research in Environmental Sciences (CIRES), University of Colorado, Boulder


Collaborator

Kuiying Chen
State Oceanic Administration, China


Principal Investigator

Carla J. Moore
NOAA National Geophysical Data Center


Originator

Minerals Management Service


Originator

NOAA National Ocean Service, Office of Coastal Zone Management


Publisher

National Geophysical Data Center, NOAA

Date(s)

publication: 1991-10-31
revision: 1991-10-31

Edition:
First
Data Presentation Form:
Digital table - digital representation of facts or figures systematically displayed, especially in columns

Dataset Progress Status
Complete
Data Update Frequency:
Not planned - This dataset will not be updated by NGDC, but is being incorporated into external datasets which are being updated elsewhere.
Supplemental Information:
This database is partially incorporated in corrected, updated form from the International Seabed Authority
Purpose:
Marine Minerals Research and Exploration
Use Limitations

Produced by the NOAA National Geophysical Data Center. Not subject to copyright protection within the United States.
Time Period:
1984-05-02 to 1991-10-31
Spatial Reference System:
urn:ogc:def:crs:EPSG:4326
Spatial Bounding Box Coordinates:

N: 90

S: -90

E: 180

W: -180

Spatial Coverage Map:
Themes

Scientific archives
Electronic records
Oceanography
Ocean bottom
Geology
Submarine geology
Marine sediments
Marine geology
Sea-floor characteristics
EARTH SCIENCE > Oceans > Marine Sediments
EARTH SCIENCE > Paleoclimate > Ocean/Lake Records > Sediments
EARTH SCIENCE > Solid Earth > Sediments
EARTH SCIENCE > Solid Earth > Natural Resources > Metals
EARTH SCIENCE > Solid Earth > Natural Resources
EARTH SCIENCE > Solid Earth > Geochemistry > Major Elements
EARTH SCIENCE > Solid Earth > Geochemistry > Minor Elements
EARTH SCIENCE > Solid Earth > Geochemistry > Trace Elements
EARTH SCIENCE > Solid Earth > Geochemistry > Marine Geochemistry

Data Centers

WDC/GEOPHYSICS, BOULDER > World Data Center for Geophysics, Boulder
DOC/NOAA/NESDIS/NGDC > National Geophysical Data Center, NESDIS, NOAA, U.S. Department of Commerce

Platforms

In Situ Ocean-based Platforms > SHIPS

Instruments

In Situ/Laboratory Instruments > Corers > CORING DEVICES
In Situ/Laboratory Instruments > Samplers > DREDGING DEVICES
In Situ/Laboratory Instruments > Samplers > Grabbers/Traps/Collectors > GRAB SAMPLERS

Places

GEOGRAPHIC REGION > GLOBAL OCEAN
VERTICAL LOCATION > SEA FLOOR

Projects

DOMES > Deep Ocean Mining Environmental Study
IDOE > International Decade of Ocean Exploration
| | |
| --- | --- |
| Use Constraints | While every effort has been made to ensure that these data are accurate and reliable within the limits of the current state of the art, NOAA cannot assume liability for any damages caused by any errors or omissions in the data, nor as a result of the failure of the data to function on a particular system. NOAA makes no warranty, expressed or implied, nor does the fact of distribution constitute such a warranty. |
| Access Constraints | Access to this dataset is unrestricted, however no search/subset capabilities are provided by NGDC. |
| Other Constraints | Cite as: Grant, J. Bruce, Moore, Carla J., Alameddin, George, Chen, Kuiying, and Mark Barton (1992). The NOAA and MMS Marine Minerals Geochemical Database. National Geophysical Data Center, NOAA. doi:10.7289/V52Z13FT |
| Fees | Some data/forms of geochemical data are online for free download. Contact the data center for CD-ROM pricing. |
| | |
| --- | --- |
| Source Datasets | |
| Lineage Statement | Lineage varies by data source. Some data received in digital form and reformatted, some data coded from the literature by NGDC. |
| Processing Environment | Native Dataset Environment: ASCII text files Technical Prerequisites: Contact data center for information |
Metadata Last Modified: 2015-04-02
For questions about the information on this page, please email: geology.info@noaa.gov