Bottom Sediment Granulometric Data for the Continental Margins of the Bering, Chukchi, East Siberia, Laptev, and Beaufort Seas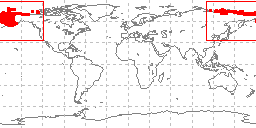 sample locations in study area
These data are part of Roberts, Richard W., University of Washington, Department of Oceanography Special Report No. 70, Bottom Sediment Granulometric Data for the Continental Margins of the Bering, Chukchi, East Siberian, Laptev, and Beaufort Seas. The report was funded by Grant OCE76-20834, from the National Science Foundation, with additional support from the Office of Naval Research, the US Atomic Energy Commission, and the US Geological Survey. Data in the report represent granulometric analyses conducted by UW of over 4,300 sediment samples from approximately 1,500 stations collected during cruises of the Brown Bear, Thomas G. Thompson, Northwind, Staten Island, Burton Island, Surveyor, John N. Cobb, and Drifting Ice Station Alpha II. The full report accompanying the tabular data is available in .pdf form online (27.4 Mbytes).Data include collecting institution, ship, cruise, sample id, latitude/longitude, date of collection, water depth, sampling device, method of analysis, sample weight, sampled interval, raw weight percentages of sediment, within a given phi range. Some samples also have percentages of total gravel, sand, silt, clay, and statistical measurements such as mean, median, skewness, kurtosis, and standard deviation of grain size. These data are part of the larger NGDC digital grain size database.
Cite this dataset when used as a source.
Originator

Richard W. Roberts
University of Washington


Publisher

National Geophysical Data Center, NOAA

Date(s)

publication: 1976-10-31
revision: 1976-10-31

Edition:
First
Data Presentation Form:
Digital table - digital representation of facts or figures systematically displayed, especially in columns

Dataset Progress Status
Complete
Data Update Frequency:
Not planned - Completed data set, no additions planned.
Supplemental Information:
Also available in PDF and microfilm form
Purpose:
environmental research
Use Limitations

Please cite the originator of the data set, the date downloaded, and the National Geophysical Data Center, NOAA, as the source of the data.

Produced by the NOAA National Geophysical Data Center. Not subject to copyright protection within the United States.
Time Period:
1959-06-29 to 1970-09-14
Spatial Reference System:
urn:ogc:def:crs:EPSG:4326
Spatial Bounding Box Coordinates:

N: 78.16

S: 54.75

E: 180

W: -180

Spatial Coverage Map:
Themes

Scientific archives
Electronic records
Oceanography
Ocean bottom
Geology
Submarine geology
Marine sediments
Marine geology
Sea-floor characteristics
EARTH SCIENCE > Oceans > Marine Sediments
EARTH SCIENCE > Paleoclimate > Ocean/Lake Records > Sediments
EARTH SCIENCE > Solid Earth > Sediments
EARTH SCIENCE > Oceans > Marine Sediments > Geotechnical Properties
EARTH SCIENCE > Oceans > Marine Sediments > Sedimentation

Data Centers

WDC/GEOPHYSICS, BOULDER > World Data Center for Geophysics, Boulder
DOC/NOAA/NESDIS/NGDC > National Geophysical Data Center, NESDIS, NOAA, U.S. Department of Commerce

Platforms

In Situ Ocean-based Platforms > SHIPS

Instruments

In Situ/Laboratory Instruments > Corers > CORING DEVICES
In Situ/Laboratory Instruments > Corers > SEDIMENT CORERS

Places

VERTICAL LOCATION > SEA FLOOR
OCEAN > ARCTIC OCEAN
OCEAN > PACIFIC OCEAN > NORTH PACIFIC OCEAN > BERING SEA
OCEAN > ARCTIC OCEAN > CHUKCHI SEA
OCEAN > PACIFIC OCEAN > NORTH PACIFIC OCEAN
OCEAN > ARCTIC OCEAN > Beaufort Sea

Projects
| | |
| --- | --- |
| Use Constraints | While every effort has been made to ensure that these data are accurate and reliable within the limits of the current state of the art, NOAA cannot assume liability for any damages caused by any errors or omissions in the data, nor as a result of the failure of the data to function on a particular system. NOAA makes no warranty, expressed or implied, nor does the fact of distribution constitute such a warranty. |
| Access Constraints | Access to this dataset is unrestricted. |
| Fees | |
| | |
| --- | --- |
| Source Datasets | |
| Lineage Statement | Lineage prior to transfer to NGDC is unknown |
| Processing Environment | Native Dataset Environment: ASCII text |
Metadata Last Modified: 2014-07-07
For questions about the information on this page, please email: geology.info@noaa.gov