Massachusetts Division of Marine Fisheries SED Dataset 2_17_11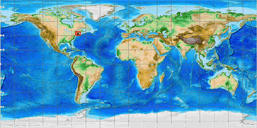 sample locations in study area
This GIS data layer represents point coverage of seafloor sediment size and composition in Massachusetts territorial waters. The data were created by aggregating available sediment point data collected from the United States Geological Survey's (USGS) usSEABED, version 1.0, U.S. Geological Survey Data Series 118 (Reid 2005), the Massachusetts Water Resources Authority, the Massachusetts Division of Marine Fisheries, and the United States Environmental Protection Agency. Sediment data were collected between 1884 to 2008 from a variety of published and unpublished sediment texture and other geologic data. As such, the data has a variety of different horizontal accuracies and sampling and analysis methodologies. The dataset includes relative data quality for each point. More information regarding the compiled data sources and data quality assessment is available in Ford, K.H. and S.E. Voss. 2010. Seafloor sediment composition in Massachusetts determined using point data. Massachusetts Division of Marine Fisheries Technical Report, TR-45. 21pp.
Cite this dataset when used as a source.
Search and Download
Distribution Formats

ARCE

File Compression: no compression applied

Distributor
Distributor information not available
Point of Contact
Kathryn Ford & Steven Voss
Massachusetts Division of Marine Fisheries
508-990-2860
steven.voss@state.ma.us

No point of contact available for this dataset
Originator

Massachusetts Division of Marine Fisheries


Publisher

Publisher information not available.

Date(s)

publication: 2011-02-17
revision: 2011-02-17

Data Presentation Form:
mapDigital

Dataset Progress Status
Under development
Data Update Frequency:
As needed - New versions may be archived in the future.
Supplemental Information:
These data were compiled in part to support the Massachusetts Ocean Management Plan, December 2009.
Purpose:
These data were compiled for the creation of surficial sediment maps.
Use Limitations

Please cite the originator of the data set, the date downloaded, and the National Centers for Environmental Information, NOAA, as the source of the data.
Time Period:
1884-01-01 to 2008-12-31
Spatial Reference System:
Spatial Bounding Box Coordinates:

N: 42.965

S: 41.1069

E: -69.7492

W: -71.2353

Spatial Coverage Map:
Themes

Scientific archives
Electronic records
Oceanography
Ocean bottom
Geology
Submarine geology
Marine sediments
Marine geology
Sea-floor characteristics
EARTH SCIENCE > Oceans > Marine Sediments
EARTH SCIENCE > Paleoclimate > Ocean/Lake Records > Sediments
EARTH SCIENCE > Oceans > Marine Sediments > Sediment Composition
EARTH SCIENCE > Oceans > Marine Sediments > Sedimentary Textures

Data Centers

DOC/NOAA/NESDIS/NCEI > National Centers for Environmental Information, NESDIS, NOAA, U.S. Department of Commerce
DOC/NOAA/NESDIS/NGDC > National Geophysical Data Center, NESDIS, NOAA, U.S. Department of Commerce

Platforms

In Situ Ocean-based Platforms > SHIPS

Instruments

In Situ/Laboratory Instruments > Photon/Optical Detectors > Cameras
In Situ/Laboratory Instruments > Corers > CORING DEVICES
In Situ/Laboratory Instruments > Samplers > DREDGING DEVICES
In Situ/Laboratory Instruments > Samplers > Grabbers/Traps/Collectors > GRAB SAMPLERS
In Situ/Laboratory Instruments > Corers > SEDIMENT CORERS

Places

Massachusetts
Gulf of Maine
Massachusetts Bay
Cape Cod Bay
Nantucket Sound
Vineyard Sound
Buzzards Bay

Projects

Unknown
ICSU-WDS > International Council for Science - World Data System
| | |
| --- | --- |
| Use Constraints | Use Constraints: Public domain data from the Massachusetts Division of Marine Fisheries (DMF), an agency of the Commonwealth of Massachusetts Department of Fish and Game, are freely redistributable with proper metadata and source attribution. Please recognize DMF as the source of these data. You are not permitted to use DMF's name or to suggest that DMF endorses your project or product, without its express written consent. While efforts have been made to ensure that these data are accurate and reliable within the state of the art, DMF cannot assume liability for any damages or misrepresentation caused by any inaccuracies in the data or as a result of changes to the data caused by system transfers. The user must be aware of data conditions and bear responsibility for the appropriate use of these data with respect to possible errors, original map scale, collection methodology, currency of data, and other conditions specific to these data. Distribution Liability: Although every effort has been made to ensure the accuracy of these data, errors and conditions originating from physical sources used to develop these data may be reflected in the data supplied. The client must be aware of data conditions and bear responsibility for the appropriate use of the information with respect to possible errors, original map scale, collection methodology, currency of data, and other conditions specific to certain data. In no event shall MADMF be liable for any damages, whether general, special, incidental or consequential damages, arising out of your use of these data. Your sole remedy for damages is to stop using the data. You agree to defend, indemnify, and hold harmless MADMF and its employees against any claim, loss, liability or expense, including attorneys' fees, resulting from loss of or damage to property or the injury to or death of any person arising out of the use of the data. |
| Access Constraints | Access Constraints: None. These data are in the public domain. GIS files are freely available for download. |
| Fees | GIS and coordinate files may be downloaded at no charge. |
Source Datasets

usSEABED: Atlantic Coast Offshore Surficial Sediment Data Release

Description of Source: Source Contribution: usSEABED: Atlantic Coast Offshore Surficial Sediment Data ReleaseCD-ROM and online
Temporal extent used: 1884 to 2003

MWRA: 2007 Boston Harbor Benthic Monitoring: GRN_SZ Data

Description of Source: Source Contribution: Maciolek, NJ, RJ Diaz, DT Dahlen, and SA Doner. 2008. 2007 Boston Harbor Benthic Monitoring Report. Boston: Massachusetts Water Resources Authority. Report 2008-22. 54 pages plus appendices. online
Temporal extent used: 1993 to 2007

EPA: National Coastal Assessment-Northeast/Massachusetts

Description of Source: Source Contribution: http://www.epa.gov/emap/nca/html/data/index.htmlonline
Temporal extent used: 2000 to 2001

EPA: Environmental Monitoring & Assessment Program, Virginian Province

Description of Source: Source Contribution: http://www.epa.gov/emap/nca/html/data/index.htmlonline
Temporal extent used: unknown to

MADMF Resource Assessment Project: Trawl Survey Hang Data

Description of Source: Source Contribution: MADMF Resource Assessment Project: Trawl Survey Hang DataCD-ROM
Temporal extent used: 1978 to 2007

MADMF Coastal Lobster Project: Sediment Verification of Ventless Trap Survey Sites

Description of Source: Source Contribution: MADMF Coastal Lobster Project: Sediment Verification of Ventless Trap Survey SitesCD-ROM
Temporal extent used: 2006 to 2007

Grain size laboratory samples, 2004-2008

Description of Source: Source Contribution: Matt Arsenault, USGS Woods Hole Field Station, Marine Aggregate Resources and Processes, 2008.online
Temporal extent used: 2004 to 2008

Lineage Statement
Lineage prior to transfer to NGDC is given below
Processing Environment
Native Dataset Environment: Microsoft Windows XP Version 5.1 (Build 2600) Service Pack 3; ESRI ArcCatalog 9.3.0.1770 Shapefile
Metadata Last Modified: 2015-12-31
For questions about the information on this page, please email: