2010 Port-au-Prince, Haiti Images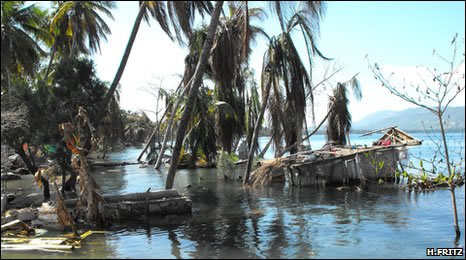 According to official estimates, 222,570 people killed, 300,000 injured, 1.3 million displaced, 97,294 houses destroyed and 188,383 damaged in the Port-au-Prince area and in much of southern Haiti. This includes at least 4 people killed by a local tsunami in the Petit Paradis area near Leogane. Uplift was observed along the coast from Leogane to L'Acul and subsidence was observed along the coast from Grand Trou to Port Royal. Felt (VII) at Port-au-Prince and Petionville and (V) at Vieux Bourg d'Aquin and Port-de-Paix. Felt (V) at La Vega, Moca and San Cristobal; (IV) at Puerto Plata, Santiago, Santo Domingo and Sosua, Dominican Republic. Felt throughout Haiti and the Dominican Republic. Felt (III) at Oranjestad, Aruba; (IV) at Santiago de Cuba and (III) at Guantanamo, Cuba; (II) in the Kingston-Mona area, Jamaica; (III) at Cockburn Harbour and (II) at Cockburn Town, Turks and Caicos Islands; (II) at Caracas, Venezuela. Felt in parts of The Bahamas, Puerto Rico and the US Virgin Islands and as far as southern Florida, northern Colombia and northwestern Venezuela.
Please cite the original source when using these data. Disclaimer - While every effort has been made to ensure that these data are accurate and reliable within the limits of the current state of the art, NOAA cannot assume liability for any damages caused by any errors or omissions in the data, nor as a result of the failure of the data to function on a particular system. NOAA makes no warranty, expressed or implied, nor does the fact of distribution constitute such a warranty.
Online Access

Event Description (download)
Natural hazard event (tsunami, earthquake, volcanic eruption or other geological hazard) description, image thumbnails, map, links to metadata and details from the NGDC Hazards databases
Natural Hazards Image Database (search)
Collection of damage and geological images resulting from natural hazards, specifically tsunamis, earthquakes, and volcanoes.
Keyhole Markup Language (KML) (download)
Event epicenter and image locations

Distribution Formats
Distributor
DOC/NOAA/NESDIS/NCEI> National Centers for Environmental Information, NESDIS, NOAA, U.S. Department of Commerce

Dataset Point of Contact
Hazards Data Manager
DOC/NOAA/NESDIS/NCEI> National Centers for Environmental Information, NESDIS, NOAA, U.S. Department of Commerce
haz.info@noaa.gov

Documentation links not available.
| | |
| --- | --- |
| Date(s) | |
| Data Presentation Form: | Digital image |
| Dataset Progress Status | On Going |
| Data Update Frequency: | As needed |
| Purpose: | To provide long-term scientific data stewardship for the Nation's geophysical data, ensuring quality, integrity, and accessibility |
| Use Limitations | Cite as: National Geophysical Data Center (2012): Natural Hazard Images Database (Event: 2010 Port-au-Prince, Haiti). National Geophysical Data Center, NOAA. doi:10.7289/V5154F01 [access date] |
Dataset acknowledgements not available.

Publisher(s)

DOC/NOAA/NESDIS/NCEI > National Centers for Environmental Information, NESDIS, NOAA, U.S. Department of Commerce

DOC/NOAA/NESDIS/NGDC > National Geophysical Data Center, NESDIS, NOAA, U.S. Department of Commerce
Time Period:
Unknown to Unknown
Spatial Bounding Box Coordinates:

N: 18.457

S: 18.457

E: -72.533

W: -72.533

Spatial Coverage Map:
Theme keywords

EARTH SCIENCE > HUMAN DIMENSIONS > Natural Hazards > Geological Hazards

Data Center keywords

DOC/NOAA/NESDIS/NCEI > National Centers for Environmental Information, NESDIS, NOAA, U.S. Department of Commerce
DOC/NOAA/NESDIS/NGDC > National Geophysical Data Center, NESDIS, NOAA, U.S. Department of Commerce

Project keywords

ICSU-WDS > International Council for Science - World Data System
| | |
| --- | --- |
| Use Constraints | No constraint information available |
| Other Constraints | Please cite the original source when using these data. Disclaimer - While every effort has been made to ensure that these data are accurate and reliable within the limits of the current state of the art, NOAA cannot assume liability for any damages caused by any errors or omissions in the data, nor as a result of the failure of the data to function on a particular system. NOAA makes no warranty, expressed or implied, nor does the fact of distribution constitute such a warranty. |
| Fees | Fee information not available. |
Lineage information for: repository

| | |
| --- | --- |
| Processing Steps | 2015-04-22T00:00:00 - NOAA created the National Centers for Environmental Information (NCEI) by merging NOAA's National Climatic Data Center (NCDC), National Geophysical Data Center (NGDC), and National Oceanographic Data Center (NODC), including the National Coastal Data Development Center (NCDDC), per the Consolidated and Further Continuing Appropriations Act, 2015, Public Law 113-235. NCEI launched publicly on April 22, 2015. |
Last Modified: 2015-10-14