1992 Mount Spurr, USA Images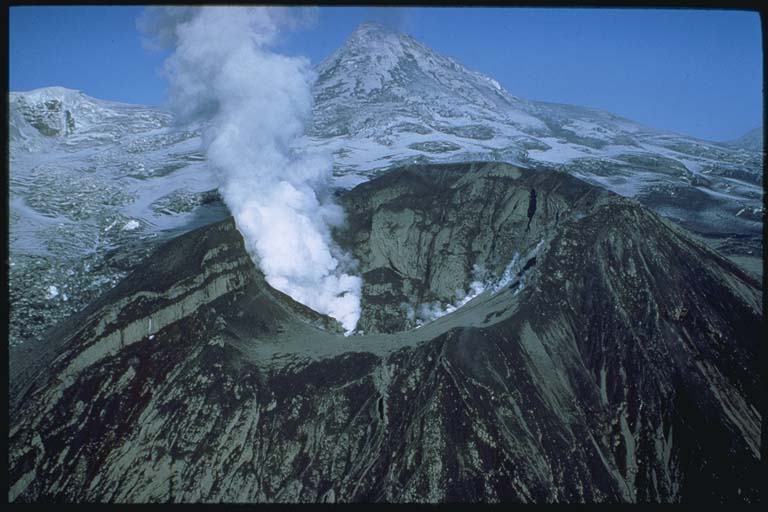 Following 39 years of inactivity, Crater Peak vent on the south flank of Mount Spurr volcano burst into eruption at 7:04 a.m. Alaska daylight time (ADT) on June 27, 1992. The Municipality of Anchorage reported nearly $2 million in damage, office closures, and cleanup costs from the August eruption. In addition, there were numerous, small-scale losses incurred by businesses. No loss of life resulted directly from the eruptions. However, two heart attacks, one fatal, from shoveling ashfall were reported in Anchorage.
Please cite the original source when using these data. Disclaimer - While every effort has been made to ensure that these data are accurate and reliable within the limits of the current state of the art, NOAA cannot assume liability for any damages caused by any errors or omissions in the data, nor as a result of the failure of the data to function on a particular system. NOAA makes no warranty, expressed or implied, nor does the fact of distribution constitute such a warranty.
Search and Download

Event Description (download)
Natural hazard event (tsunami, earthquake, volcanic eruption or other geological hazard) description, image thumbnails, map, links to metadata and details from the NGDC Hazards databases
Natural Hazards Image Database (search)
Collection of damage and geological images resulting from natural hazards, specifically tsunamis, earthquakes, and volcanoes.
Keyhole Markup Language (KML) (download)
Event epicenter and image locations

Distribution Formats
Distributor
DOC/NOAA/NESDIS/NGDC > National Geophysical Data Center, NESDIS, NOAA, U.S. Department of Commerce

Point of Contact
Heather McCullough
DOC/NOAA/NESDIS/NGDC > National Geophysical Data Center, NESDIS, NOAA, U.S. Department of Commerce
(303) 497-3707
haz.info@noaa.gov
Heather.McCullough@noaa.gov

Documentation links not available.
| | |
| --- | --- |
| Publisher | DOC/NOAA/NESDIS/NGDC > National Geophysical Data Center, NESDIS, NOAA, U.S. Department of Commerce |
| Date(s) | |
| Data Presentation Form: | Digital image |
| Dataset Progress Status | On Going |
| Data Update Frequency: | As needed |
| Purpose: | To provide long-term scientific data stewardship for the Nation's geophysical data, ensuring quality, integrity, and accessibility |
| Use Limitations | Cite as: National Geophysical Data Center (2012): Natural Hazard Images Database (Event: 1992 Mount Spurr, USA). National Geophysical Data Center, NOAA. doi:10.7289/V5154F01 [access date] |
Time Period:
Unknown to Unknown
Spatial Bounding Box Coordinates:

N: 61.3

S: 61.3

E: -152.25

W: -152.25

Spatial Coverage Map:
Themes

EARTH SCIENCE > HUMAN DIMENSIONS > Natural Hazards > Geological Hazards

Data Centers

WDS/MGG, BOULDER > World Data Service for Geophysics, Boulder
DOC/NOAA/NESDIS/NGDC > National Geophysical Data Center, NESDIS, NOAA, U.S. Department of Commerce
| | |
| --- | --- |
| Use Constraints | No constraint information available |
| Other Constraints | Please cite the original source when using these data. Disclaimer - While every effort has been made to ensure that these data are accurate and reliable within the limits of the current state of the art, NOAA cannot assume liability for any damages caused by any errors or omissions in the data, nor as a result of the failure of the data to function on a particular system. NOAA makes no warranty, expressed or implied, nor does the fact of distribution constitute such a warranty. |
| Fees | Fee information not available. |
| | |
| --- | --- |
| Lineage Statement | Lineage statement not available. |
Metadata Last Modified: 2013-02-25
For questions about the information on this page, please email: haz.info@noaa.gov
Heather.McCullough@noaa.gov