Landslides, Set 2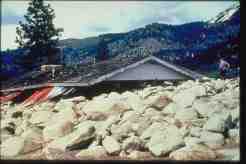 Boulders partially bury a house from a debris flow triggered by rapid snow melt in late May, 1983. The rapidly-moving debris flow emerged from a canyon and killed one person, injured several others, destroyed or severely damaged five homes, and buried a highway.
This set expands the topics included in Set 1 and includes (in addition to landslides) rockfalls, rock avalanches, mud flows, debris flows, slumps, creep, and sinkholes. The photos were taken in California, Colorado, Idaho, Nevada, Utah, Washington state, and the countries of Peru and Puerto Rico. Eighteen of the slides depict events that occurred between 1980 and 1999.
Cite this dataset when used as a source.
Search and Download
Distribution Formats
Distributor
Distributor information not available
Point of Contact
DOC/NOAA/NESDIS/NCEI> National Centers for Environmental Information, NESDIS, NOAA, U.S. Department of Commerce
haz.info@noaa.gov

Documentation links not available.
Originator

DOC/NOAA/NESDIS/NGDC > National Geophysical Data Center, NESDIS, NOAA, U.S. Department of Commerce (comp)


Publisher

DOC/NOAA/NESDIS/NCEI > National Centers for Environmental Information, NESDIS, NOAA, U.S. Department of Commerce
National Geophysical Data Center

Date(s)
Edition:
First
Dataset Progress Status
Complete
Data Update Frequency:
Not planned
Purpose:
Make available Damage Photos for research and education
Time Period:
1970-01-01 to 1998-10-15
Spatial Bounding Box Coordinates:

N: 90

S: -90

E: 180

W: -180

Spatial Coverage Map:
Themes

EARTH SCIENCE > LAND SURFACE > Erosion/Sedimentation > Entrainment
EARTH SCIENCE > LAND SURFACE > Erosion/Sedimentation > Erosion
EARTH SCIENCE > LAND SURFACE > Erosion/Sedimentation > Weathering
EARTH SCIENCE > SOLID EARTH > Tectonics > Faults
INFOTERRA > Disasters > Catastrophic phenomena > Landslides
INFOTERRA > Lithosphere > Faults > Faults
INFOTERRA > Lithosphere > Seismic activity > Seismic activity

Data Centers

DOC/NOAA/NESDIS/NCEI > National Centers for Environmental Information, NESDIS, NOAA, U.S. Department of Commerce
DOC/NOAA/NESDIS/NGDC > National Geophysical Data Center, NESDIS, NOAA, U.S. Department of Commerce

Places
Projects

ICSU-WDS > International Council for Science - World Data System
| | |
| --- | --- |
| Use Constraints | Access Constraints: None Use Constraints: None Distribution Liability: While every effort has been made to ensure that these data are accurate and reliable within the limits of the current state of the art, NOAA cannot assume liability for any damages caused by any errors or omissions in the data, nor as a result of the failure of the data to function on a particular system. NOAA makes no warranty, expressed or implied, nor does the fact of distribution constitute such a warranty. |
| Access Constraints | Access Constraints: None Use Constraints: None Distribution Liability: While every effort has been made to ensure that these data are accurate and reliable within the limits of the current state of the art, NOAA cannot assume liability for any damages caused by any errors or omissions in the data, nor as a result of the failure of the data to function on a particular system. NOAA makes no warranty, expressed or implied, nor does the fact of distribution constitute such a warranty. |
| Fees | Free None $25.00 plus handling and shipment outside the USA |
| | |
| --- | --- |
| Lineage Statement | Lineage statement not available. |
Metadata Last Modified: 2015-10-14
For questions about the information on this page, please email: haz.info@noaa.gov