Chi-Chi, Taiwan Earthquake, September 21, 1999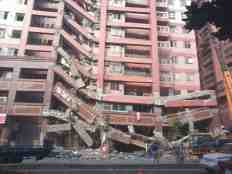 Partially collapsed 15-story high-rise building. Building was constructed of reinforced concrete with infill brick partitions. There was beam column joint failure at the fa??ade and the first floor collapsed in the right section of the building.
On September 21, 1999, at 1:47 AM local time, a magnitude MW 7.6 earthquake was felt throughout the island of Taiwan. A five county area, including the city of Taichung, experienced the greatest number of casualties and most severe damage. 2,405 deaths and 10,718 injuries were reported. As many as 82,000 housing units were damaged or destroyed, resulting in nearly 600,000 people being temporarily or permanently displaced from their homes.
Cite this dataset when used as a source.
Search and Download
Distribution Formats
Distributor
Distributor information not available
Point of Contact
DOC/NOAA/NESDIS/NCEI> National Centers for Environmental Information, NESDIS, NOAA, U.S. Department of Commerce
haz.info@noaa.gov

Documentation links not available.
| | |
| --- | --- |
| Originator | DOC/NOAA/NESDIS/NGDC > National Geophysical Data Center, NESDIS, NOAA, U.S. Department of Commerce (comp) |
| Publisher | DOC/NOAA/NESDIS/NCEI > National Centers for Environmental Information, NESDIS, NOAA, U.S. Department of Commerce |
| Date(s) | |
| Edition: | first |
| Dataset Progress Status | Complete |
| Data Update Frequency: | Not planned |
| Purpose: | To provide hazard information. |
Time Period:
Unknown to Unknown
Spatial Bounding Box Coordinates:

N: 24

S: 24

E: 121

W: 120.5

Spatial Coverage Map:
Themes

EARTH SCIENCE > Solid Earth > Seismology > Earthquake Occurrences
EARTH SCIENCE > Solid Earth > Seismology > Earthquake Dynamics
EARTH SCIENCE > Solid Earth > Tectonics > Faults
INFOTERRA > Disasters > Catastrophic Phenomena > Earthquakes
INFOTERRA > Lithosphere > Seismic Activity > Seismic Activity

Data Centers

DOC/NOAA/NESDIS/NCEI > National Centers for Environmental Information, NESDIS, NOAA, U.S. Department of Commerce
DOC/NOAA/NESDIS/NGDC > National Geophysical Data Center, NESDIS, NOAA, U.S. Department of Commerce

Places

Asia > Taiwan > Nan-t'ou Chen > Chi-chi

Projects

ICSU-WDS > International Council for Science - World Data System
| | |
| --- | --- |
| Use Constraints | Access Constraints: None Use Constraints: None Distribution Liability: While every effort has been made to ensure that these data are accurate and reliable within the limits of the current state of the art, NOAA cannot assume liability for any damages caused by any errors or omissions in the data, nor as a result of the failure of the data to function on a particular system. NOAA makes no warranty, expressed or implied, nor does the fact of distribution constitute such a warranty. |
| Access Constraints | Access Constraints: None Use Constraints: None Distribution Liability: While every effort has been made to ensure that these data are accurate and reliable within the limits of the current state of the art, NOAA cannot assume liability for any damages caused by any errors or omissions in the data, nor as a result of the failure of the data to function on a particular system. NOAA makes no warranty, expressed or implied, nor does the fact of distribution constitute such a warranty. |
| Fees | $25.00 plus handling and shipping outside the USA None $25.00 plus handling and shipping outside the USA |
| | |
| --- | --- |
| Lineage Statement | Lineage statement not available. |
Metadata Last Modified: 2015-10-14
For questions about the information on this page, please email: haz.info@noaa.gov