Core Data from the Ocean Drilling Program legs 101-129
Site Map: Legs 100-192 produced by the ODP Science Operator
[View PDF version of map]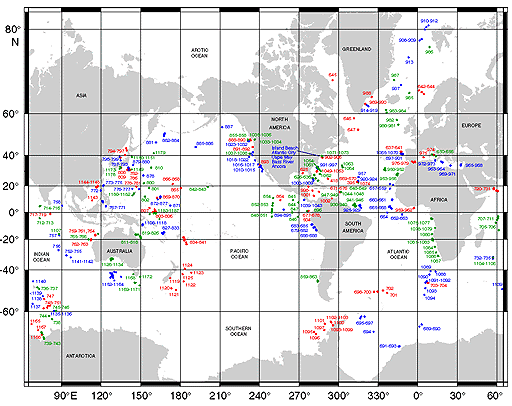 [view larger version of image above]
This CD-ROM contains data from legs 101-129 (sites/holes 626A - 802A), for data from other legs, please contact the ODP. The site map images and files above were produced by Texas A&M University, Science Operator of the ODP. They were current as of April, 2001.
introduction | data types | geographic areas | legs/sites/holes | sites/holes
---
These Web pages are from the Core Data from the Ocean Drilling Program Legs 101-129 CD-ROM produced in 2001 by the U.S. Department of Commerce, National Oceanic and Atmospheric Administration, National Environmental Satellite, Data, and Information Service, National Geophysical Data Center, and collocated World Data Center for Marine Geology and Geophysics, Boulder. Data were compiled in cooperation with the U.S. Science Support Program, the Joint Oceanographic Institutions, Inc., and the U.S. National Science Foundation. Please see the NGDC privacy, disclaimer, and copyright notices. Additional ocean drilling data are available from NGDC and from the ODP/IODP.
questions to: geology.info@noaa.gov