Natural Hazards Image Database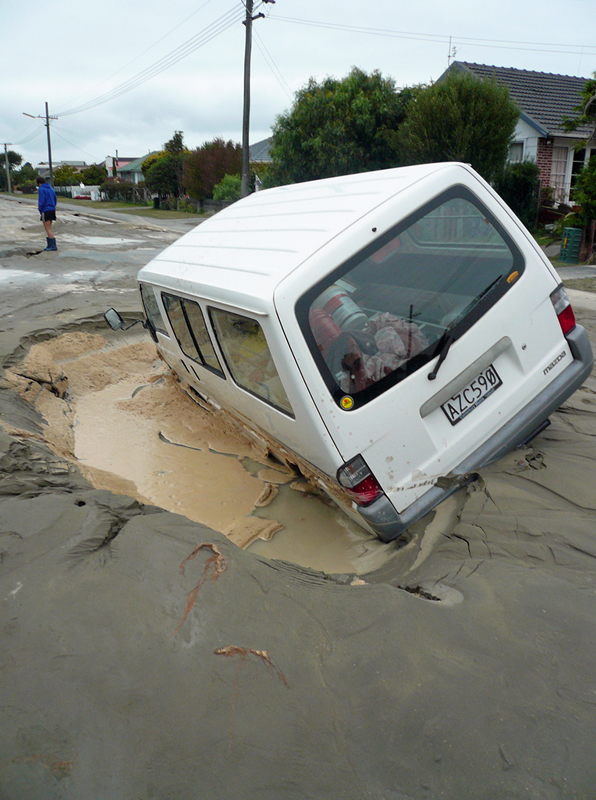 A hole caused by liquefaction in New Brighton following the Christchurch earthquake.
Photographs and other visual media provide valuable pre- and post-event data for natural hazards. Research, mitigation, and forecasting rely on visual data for post-analysis, inundation mapping and historic records. Instrumental data only reveal a portion of the whole story; photographs explicitly illustrate the physical and societal impacts from an event.
This resource provides high-resolution geologic and damage photographs from natural hazards events, including earthquakes, tsunamis, slides, volcanic eruptions and geologic movement (faults, creep, subsidence and flows). The earliest images date back to 1886. Each event also links to NCEI's Global Historical hazards databases, which provide details for these events.
Cite as: National Geophysical Data Center: Natural Hazard Images Database, [event]. NOAA National Centers for Environmental Information. doi:10.7289/V5154F01 [access date]
Download Data
Distribution Formats

TIF

File Specification: Tagged Image File Format (TIFF).

JPG

File Specification: Joint Photographic Experts Group (JPEG).

Distributor
Heather McCullough
DOC/NOAA/NESDIS/NCEI > National Centers for Environmental Information, NESDIS, NOAA, U.S. Department of Commerce
(303) 497-3707
Heather.McCullough@noaa.gov

Dataset Point of Contact
Heather McCullough
DOC/NOAA/NESDIS/NCEI > National Centers for Environmental Information, NESDIS, NOAA, U.S. Department of Commerce
(303) 497-3707
Heather.McCullough@noaa.gov

| | |
| --- | --- |
| General Documentation | |
| Associated Resources | Do the 2010 Haiti and Chile earthquakes and tsunamis indicate increasing trends? |
| | |
| --- | --- |
| Date(s) | |
| Edition: | First |
| Data Presentation Form: | Digital image |
| Dataset Progress Status | On Going |
| Data Update Frequency: | Continual - Additions as new data are received. |
| Purpose: | Make available damage images for research and education |
| Use Limitations | Please cite the originator of the data set, the date downloaded, and the NOAA National Centers for Environmental Information, as the source of the data. |
Originator(s)

DOC/NOAA/NESDIS/NGDC > National Geophysical Data Center, NESDIS, NOAA, U.S. Department of Commerce




Publisher(s)

DOC/NOAA/NESDIS/NCEI > National Centers for Environmental Information, NESDIS, NOAA, U.S. Department of Commerce

National Geophysical Data Center, NOAA
Time Period:
1886 to Present
Spatial Bounding Box Coordinates:

N: 90

S: -90

E: 180

W: -180

Spatial Coverage Map:
Theme keywords
NASA/GCMD Earth Science Keywords

EARTH SCIENCE > Solid Earth > Tectonics > Earthquakes
EARTH SCIENCE > Solid Earth > Tectonics > Volcanic Activity
EARTH SCIENCE > Solid Earth > Tectonic Landforms > Faults
EARTH SCIENCE > Solid Earth > Geomorphic Landforms/Processes
EARTH SCIENCE > Solid Earth > Geomorphic Landforms/Processes > Tectonic Processes > Subduction
EARTH SCIENCE > Oceans > Ocean Waves > Tsunamis
EARTH SCIENCE > Oceans > Ocean Waves > Seiches
EARTH SCIENCE > Human Dimensions > Natural Hazards > Tsunamis
EARTH SCIENCE > Human Dimensions > Natural Hazards > Landslides
EARTH SCIENCE > Human Dimensions > Natural Hazards > Land Subsidence
EARTH SCIENCE > Human Dimensions > Natural Hazards > Earthquakes
EARTH SCIENCE > Human Dimensions > Natural Hazards > Volcanic Eruptions
EARTH SCIENCE > Human Dimensions > Infrastructure

Data Center keywords

DOC/NOAA/NESDIS/NCEI > National Centers for Environmental Information, NESDIS, NOAA, U.S. Department of Commerce
DOC/NOAA/NESDIS/NGDC > National Geophysical Data Center, NESDIS, NOAA, U.S. Department of Commerce

Place keywords
NASA/GCMD Location Keywords

Geographic Region > Global Land
Geographic Region > Global Ocean

Project keywords
Global Change Master Directory (GCMD) Project Keywords

ICSU-WDS > International Council for Science - World Data System
| | |
| --- | --- |
| Use Constraints | While every effort has been made to ensure that these data are accurate and reliable within the limits of the current state of the art, NOAA cannot assume liability for any damages caused by any errors or omissions in the data, nor as a result of the failure of the data to function on a particular system. NOAA makes no warranty, expressed or implied, nor does the fact of distribution constitute such a warranty. |
| Access Constraints | Access to this dataset is unrestricted. |
| Other Constraints | Cite as: National Geophysical Data Center: Natural Hazard Images Database, [event]. NOAA National Centers for Environmental Information. doi:10.7289/V5154F01 [access date] |
| Fees | |
Lineage information for: repository

| | |
| --- | --- |
| Processing Steps | 2015-04-22T00:00:00 - NOAA created the National Centers for Environmental Information (NCEI) by merging NOAA's National Climatic Data Center (NCDC), National Geophysical Data Center (NGDC), and National Oceanographic Data Center (NODC), including the National Coastal Data Development Center (NCDDC), per the Consolidated and Further Continuing Appropriations Act, 2015, Public Law 113-235. NCEI launched publicly on April 22, 2015. |
Last Modified: 2015-09-17