Weight Percentage of Calcium Carbonate for 17 Equatorial Pacific Cores from Brown University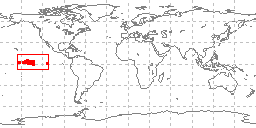 sample locations in study area
Weight percentages of calcium carbonate in this file were compiled by J. Farrell and W. L. Prell of Brown University for 17 equatorial Pacific Ocean sediment cores. Cores are identified by cruise and core id. Depth-in-core information and estimates of sediment age, by depth, in millions of years (Ma) are included. Carbonate percentages are weight percent of bulk samples, rounded to the nearest integer. Models used to generate (by linear interpolation) ages also included in table form. Ages are based primarily on paleomagnetic stratigraphy, refined by oxygen isotope stratigraphy, and correlation of CaCO3 events among cores, and range from 0 to 4 million years. Comments on biostratigraphy, delta oxygen 18, calcium carbonate events, and core quality are also included on age model tables. These data were originally submitted to NOAA's National Geophysical Data Center (NGDC) for archive and subsequently transferred to NOAA's National Climatic Data Center (NCDC) Paleoclimatology Group for stewardship. These data are available for direct download from NCDC.
Cite this dataset when used as a source.
Download Data

Data files and documentation

(download)


Web page of information about the database including links to full documentation and free data download.

Distribution Formats
Distributor
Paleoclimatology Data Manager


DOC/NOAA/NESDIS/NCEI > National Centers for Environmental Information, NESDIS, NOAA, U.S. Department of Commerce


1-303-497-6280
paleo@noaa.gov
Dataset Point of Contact
Paleoclimatology Data Manager
DOC/NOAA/NESDIS/NCEI > National Centers for Environmental Information, NESDIS, NOAA, U.S. Department of Commerce
(303) 497-6280
paleo@noaa.gov

Time Period:
1991-12-31 to 1991-12-31
Spatial Reference System:
urn:ogc:def:crs:EPSG:4326
Spatial Bounding Box Coordinates:

N: 5.967

S: 0.5

E: -113.85

W: -153.583
Date(s)

publication: 1991-12-31
revision: 1991-12-31

Edition:
First
Data Presentation Form:
Digital table - digital representation of facts or figures systematically displayed, especially in columns

Dataset Progress Status
Complete
Data Update Frequency:
Not planned - Completed data set, no additions planned.
Purpose:
Paleoceanographic Research
Use Limitations

Please cite the originator of the data set, the date downloaded, and the National Centers for Environmental Information, NOAA, as the source of the data.

Produced by the NOAA National Centers for Environmental Information. Not subject to copyright protection within the United States.
Originator(s)

John Farrell


Brown University

Warren L. Prell


Brown University

Publisher(s)

DOC/NOAA/NESDIS/NCEI > National Centers for Environmental Information, NESDIS, NOAA, U.S. Department of Commerce

Acknowledgment(s)

John Farrell, Warren L. Prell, Brown University
Theme keywords

Library of Congress Subject Headings

Scientific archives
Electronic records
Oceanography
Ocean bottom
Geology
Submarine geology
Marine sediments

SeaDataNet Common Vocabularies

USGS Science Topics

Sea-floor characteristics

Global Change Master Directory (GCMD) Science Keywords

EARTH SCIENCE > Oceans > Marine Sediments > Sediment Chemistry
EARTH SCIENCE > OCEANS > Marine Sediments
EARTH SCIENCE > OCEANS > Marine Sediments > Stratigraphic Sequence
EARTH SCIENCE > PALEOCLIMATE > Ocean/Lake Records > Isotopes
EARTH SCIENCE > PALEOCLIMATE > Ocean/Lake Records > Microfossils
EARTH SCIENCE > PALEOCLIMATE > Ocean/Lake Records > Sediments
EARTH SCIENCE > PALEOCLIMATE > Ocean/Lake Records > Stratigraphic Sequence

Data Center keywords

Global Change Master Directory (GCMD) Data Center Keywords

WDC/PALEOCLIMATOLOGY, BOULDER > World Data Center for Paleoclimatology, Boulder
DOC/NOAA/NESDIS/NCEI > National Centers for Environmental Information, NESDIS, NOAA, U.S. Department of Commerce
DOC/NOAA/NESDIS/NGDC > National Geophysical Data Center, NESDIS, NOAA, U.S. Department of Commerce

Platform keywords

Global Change Master Directory (GCMD) Platform Keywords

In Situ Ocean-based Platforms > SHIPS

Instrument keywords

Global Change Master Directory (GCMD) Instrument Keywords

In Situ/Laboratory Instruments > Corers > CORING DEVICES
In Situ/Laboratory Instruments > Corers > SEDIMENT CORERS

Place keywords

Global Change Master Directory (GCMD) Location Keywords

VERTICAL LOCATION > SEA FLOOR
OCEAN > PACIFIC OCEAN

Project keywords

Global Change Master Directory (GCMD) Project Keywords

Unknown
ICSU-WDS > International Council for Science - World Data System
Use Constraints

While every effort has been made to ensure that these data are accurate and reliable within the limits of the current state of the art, NOAA cannot assume liability for any damages caused by any errors or omissions in the data, nor as a result of the failure of the data to function on a particular system. NOAA makes no warranty, expressed or implied, nor does the fact of distribution constitute such a warranty.

Access Constraints

Access to this dataset is unrestricted.

Fees
Lineage information for: dataset

| | |
| --- | --- |
| Lineage Statement | Data originally submitted to NOAA's former National Geophysical Data Center (NGDC) then transferred to the former National Climatic Data Center (NCDC) Paleoclimatology for stewardship, both centers are now part of NOAA's National Centers for Environmental Information (NCEI). Processing and lineage prior to transmission to NGDC are unknown. |
| Processing Environment | Native Dataset Environment: ASCII text |
| Source Datasets | John Farrell, Warren L. Prell Brown University |
Lineage information for: repository

| | |
| --- | --- |
| Processing Steps | 2015-04-22T00:00:00 - NOAA created the National Centers for Environmental Information (NCEI) by merging NOAA's National Climatic Data Center (NCDC), National Geophysical Data Center (NGDC), and National Oceanographic Data Center (NODC), including the National Coastal Data Development Center (NCDDC), per the Consolidated and Further Continuing Appropriations Act, 2015, Public Law 113-235. NCEI launched publicly on April 22, 2015. |
Acquisition Information (collection)

| | |
| --- | --- |
| Instrument | In Situ/Laboratory Instruments |
| Platform | In Situ Ocean-based Platforms > SHIPS |
Last Modified: 2015-12-31
For questions about the information on this page, please email:
paleo@noaa.gov