Total Sediment Thickness of the World's Oceans & Marginal Seas, Version 2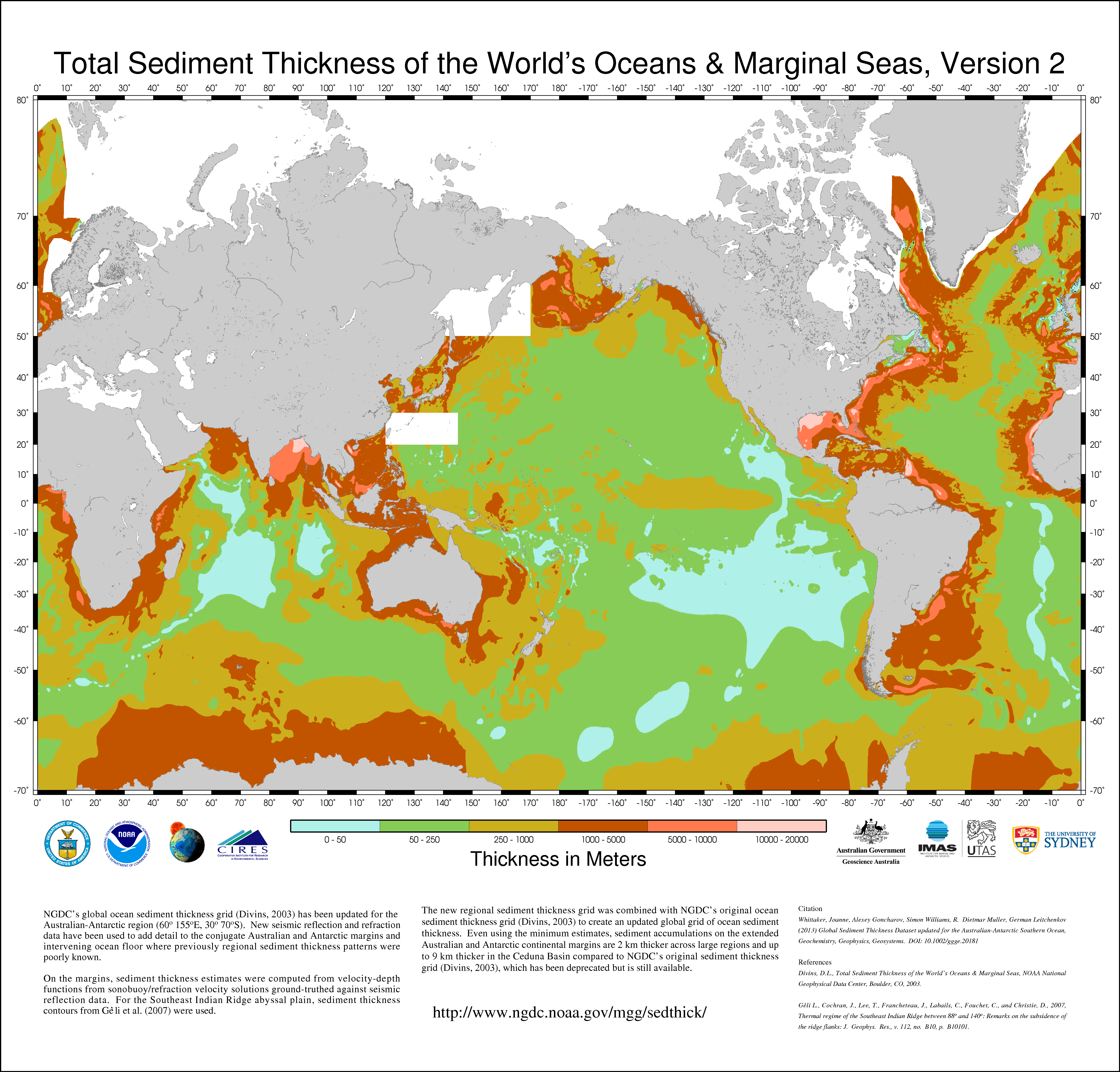 Image of total sediment thickness of the world's oceans and marginal seas, Version 2
NGDC's global ocean sediment thickness grid (Divins, 2003) has been updated for the Australian-Antarctic region (60? -155? E, 30? -70? S). New seismic reflection and refraction data have been used to add detail to the conjugate Australian and Antarctic margins and intervening ocean floor where previously regional sediment thickness patterns were poorly known. On the margins, sediment thickness estimates were computed from velocity-depth functions from sonobuoy/refraction velocity solutions ground-truthed against seismic reflection data. For the Southeast Indian Ridge abyssal plain, sediment thickness contours from G?li et al. (2007) were used. The new regional sediment thickness grid was combined with NGDC's original ocean sediment thickness grid (Divins, 2003) to create an updated global grid of ocean sediment thickness. Even using the minimum estimates, sediment accumulations on the extended Australian and Antarctic continental margins are 2 km thicker across large regions and up to 9 km thicker in the Ceduna Basin compared to NGDC's original sediment thickness grid (Divins, 2003), which has been deprecated but is still available.
Cite this dataset when used as a source.
Download Data
Distribution Formats

netCDF (Version: 2)

File Specification: binary grid created using GMT (Generic Mapping Tools)
File Compression: gzip

ASCII xyz (Version: 2)

File Specification: ASCII text version, XYZ file contains the position of the center of each cell
File Compression: zip

geotiff (Version: 2)

File Specification: geotiff
File Compression: zip

ArcGIS (Version: 2)

File Specification: ArcGIS
File Compression: zip

Distributor
User Services


DOC/NOAA/NESDIS/NCEI > National Centers for Environmental Information, NESDIS, NOAA, U.S. Department of Commerce


303-497-6826
ngdc.info@noaa.gov
Dataset Point of Contact
Joanne Whittaker
Marine Geoscientist
Institute for Marine and Antarctic Studies, University of Tasmania
+61 (0) 3 6226 6367
jo.whittaker@utas.edu.au

Time Period:
2003-12-31 to 2013-05-20
Spatial Bounding Box Coordinates:

N: 80.0000

S: -70.0000

E: 360

W: 0
Associated Resources

Global Sediment Thickness Dataset updated for the Australian-Antarctic Southern Ocean
Date(s)
Edition:
Version 2
Data Presentation Form:
Digital model - multi-dimensional digital representation of a feature, process, etc.

Dataset Progress Status
Complete
Data Update Frequency:
As needed
Purpose:
To update NGDC's global sediment-thickness database for use by researchers and interested public.
Use Limitations

While every effort has been made to ensure that these data are accurate and reliable within the limits of the current state of the art, NOAA cannot assume liability for any damages caused by any errors or omissions in the data, nor as a result of the failure of the data to function on a particular system. NOAA makes no warranty, expressed or implied, nor does the fact of distribution constitute such a warranty.
Originator(s)

Joanne Whittaker


Institute for Marine and Antarctic Studies, University of Tasmania

Publisher(s)

DOC/NOAA/NESDIS/NCEI > National Centers for Environmental Information, NESDIS, NOAA, U.S. Department of Commerce
Theme keywords

Global Change Master Directory (GCMD) Science and Services Keywords

EARTH SCIENCE>OCEANS>Marine Sediments

Uncontrolled Keywords

NASA/GCMD Data Resolution Keywords

H : 1 km - < 10 km or approximately .01 degree - < .09 degree
V : 1 meter - < 10 meters

Data Center keywords

Global Change Master Directory (GCMD) Data Center Keywords

DOC/NOAA/NESDIS/NCEI > National Centers for Environmental Information, NESDIS, NOAA, U.S. Department of Commerce
DOC/NOAA/NESDIS/NGDC > National Geophysical Data Center, NESDIS, NOAA, U.S. Department of Commerce

Place keywords

Global Change Master Directory (GCMD) Location Keywords

Ocean>Atlantic Ocean
Ocean>Indian Ocean
Ocean>Pacific Ocean
Ocean>Southern Ocean
Vertical Location>Sea Floor
Use Constraints
Access Constraints
Fees
Lineage information for: repository

| | |
| --- | --- |
| Processing Steps | 2015-04-22T00:00:00 - NOAA created the National Centers for Environmental Information (NCEI) by merging NOAA's National Climatic Data Center (NCDC), National Geophysical Data Center (NGDC), and National Oceanographic Data Center (NODC), including the National Coastal Data Development Center (NCDDC), per the Consolidated and Further Continuing Appropriations Act, 2015, Public Law 113-235. NCEI launched publicly on April 22, 2015. |
Lineage information for: dataset
Processing Steps

2013-01-01T00:00:00 - We compute new, regional 5-minute resolution sediment thickness grids using seismic reflection and refraction derived sediment thicknesses for the southern Australian and conjugate Antarctic Wilkes Land margins, merged with sediment thickness data from G?li et al. (2007) for the intervening abyssal plains. Values from the NGDC global sediment thickness grid (Divins, 2004) were used for areas not covered by the other data sets.

Source Datasets

Thermal regime of the Southeast Indian Ridge between 88?E and 140?E: Remarks on the subsidence of the ridge flanks

Description of Source: Thermal regime of the Southeast Indian Ridge between 88?E and 140?E: Remarks on the subsidence of the ridge flanks

Geological framework of the continental margin in the region of the Australian Antarctic Territory

Description of Source: Geological framework of the continental margin in the region of the Australian Antarctic Territory

A revised structural framework for frontier basins on the southern and southwestern Australian continental margin

Description of Source: A revised structural framework for frontier basins on the southern and southwestern Australian continental margin

Nature of the continent-ocean transition on the non-volcanic rifted margin in the central Great Australian Bight

Description of Source: Nature of the continent-ocean transition on the non-volcanic rifted margin in the central Great Australian Bight
Last Modified: 2015-09-01