Earthquake Damage to Schools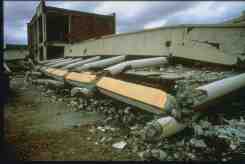 Location: Northern Algeria. Damage: $3,000 million. About 9,000 were injured. Extensive damage occurred in the El Asnam area. This modern school building collapsed at El Asnam. This school is one of 85 that collapsed during the earthquake. The earthquake occurred after school hours, and so no loss of life was sustained at this school.
This set of slides graphically illustrates the potential danger that major earthquakes pose to school structures and to the children and adults who happen to be inside at the time of the earthquake. It includes pictures from 1886 to 1988. The set includes nine destructive earthquakes that occurred in the U.S. and eight earthquakes that occurred in foreign countries. These unusual slides show earthquake damage to school s and university buildings around the world. They graphically illustrate the potential danger to our schools, and to the welfare of our children, that results from major earthquakes. The slides range from Algeria, where a collapsed school roof is held up only by students' desks; to Anchorage, Alaska, where an elementary school structure has split in half; to California and other areas, where school buildings have sustained damage to walls, roofs, and chimneys. Interestingly, all the United States earthquakes depicted in this set of slides occurred either on a holiday or before or after school hours, except the 1935 tremor in Helena, Montana, which occurred at 11:35 a.m. It undoubtedly would have caused casualties had the schools not been closed days earlier by Helena city officials because of a damaging foreshock. Students in Algeria, the People's Republic of China, Armenia, and other stricken countries were not so fortunate. This set of slides represents 17 destructive earthquakes that occurred in 9 countries, and covers more than a century--from 1886 to 1988. Two of the tremors, both of which occurred in the United States, were magnitude 8+ on the Richter Scale, and four were magnitude 7-7.9. The events represented by the slides (see table below) claimed more than a quarter of a million lives. List Of Earthquakes represented in the slide set are: Algeria: El Asnam, Armenian SSR: Spitak, Australia: Cadoux, Ecuador: Esmeraldas, Mexico: Veracruz, People's Republic of China: Tangshan, Peru: Lima, Turkey: Lice, USA: Alaska: Anchorage, California: San Francisco, Long Beach, Kern County, Coalinga, Montana: Hebgen Lake, Helena, South Carolina: CharlestonIn the following descriptions of earthquakes the location is only approximate. The damage is in millions of U.S. dollars.
Cite this dataset when used as a source.
Distribution Formats
Distributor
User Services


DOC/NOAA/NESDIS/NCEI > National Centers for Environmental Information, NESDIS, NOAA, U.S. Department of Commerce


303-497-6826
ngdc.info@noaa.gov

Dataset Point of Contact
Hazards Data Manager


DOC/NOAA/NESDIS/NCEI> National Centers for Environmental Information, NESDIS, NOAA, U.S. Department of Commerce


haz.info@noaa.gov

Time Period:
1866-08-00 to 1980-10-00
Spatial Bounding Box Coordinates:

N: 60.4

S: -30.47

E: 118.11

W: -147
Documentation links not available.
Date(s)
Edition:
First
Dataset Progress Status
Complete
Data Update Frequency:
Not planned
Purpose:
Make available Damage Photos for research and education
Originator(s)

DOC/NOAA/NESDIS/NGDC > National Geophysical Data Center, NESDIS, NOAA, U.S. Department of Commerce (comp)




Publisher(s)

DOC/NOAA/NESDIS/NCEI > National Centers for Environmental Information, NESDIS, NOAA, U.S. Department of Commerce

National Geophysical Data Center

Acknowledgment(s)
Theme keywords
NASA/GCMD Earth Science Keywords

EARTH SCIENCE > SOLID EARTH > Seismology > Earthquake Occurrences
EARTH SCIENCE > SOLID EARTH > Tectonics > Faults

INFOTERRA Keyword Thesaurus

Disasters > Catastrophic phenomena > Earthquakes
Lithosphere > Faults > Faults
Lithosphere > Seismic activity > Seismic activity

Data Center keywords
Global Change Master Directory (GCMD) Data Center Keywords

DOC/NOAA/NESDIS/NCEI > National Centers for Environmental Information, NESDIS, NOAA, U.S. Department of Commerce
DOC/NOAA/NESDIS/NGDC > National Geophysical Data Center, NESDIS, NOAA, U.S. Department of Commerce

Place keywords
NASA/GCMD Location Keywords
Project keywords
Global Change Master Directory (GCMD) Project Keywords

ICSU-WDS > International Council for Science - World Data System
Use Constraints

Access Constraints: None Use Constraints: None Distribution Liability: While every effort has been made to ensure that these data are accurate and reliable within the limits of the current state of the art, NOAA cannot assume liability for any damages caused by any errors or omissions in the data, nor as a result of the failure of the data to function on a particular system. NOAA makes no warranty, expressed or implied, nor does the fact of distribution constitute such a warranty.

Access Constraints

Access Constraints: None Use Constraints: None Distribution Liability: While every effort has been made to ensure that these data are accurate and reliable within the limits of the current state of the art, NOAA cannot assume liability for any damages caused by any errors or omissions in the data, nor as a result of the failure of the data to function on a particular system. NOAA makes no warranty, expressed or implied, nor does the fact of distribution constitute such a warranty.

Fees
Lineage information for: repository

| | |
| --- | --- |
| Processing Steps | 2015-04-22T00:00:00 - NOAA created the National Centers for Environmental Information (NCEI) by merging NOAA's National Climatic Data Center (NCDC), National Geophysical Data Center (NGDC), and National Oceanographic Data Center (NODC), including the National Coastal Data Development Center (NCDDC), per the Consolidated and Further Continuing Appropriations Act, 2015, Public Law 113-235. NCEI launched publicly on April 22, 2015. |
Last Modified: 2015-10-14