Earthquake Damage, Armenian SSR, December 7, 1988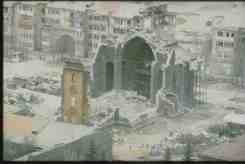 Collapse of an old stone masonry Armenian church in Leninakan. Churches are vulnerable to earthquake damage because of their high, unsupported roofs. Many such historical buildings either collapsed totally or sustained severe damage.
On December 7, 1988, at 11:41 A.M. local time a magnitude 6.9 earthquake shook northwestern Armenia and was followed four minutes later by a magnitude 5.8 aftershock. Swarms of aftershocks, some as large as magnitude 5.0, continued for months in the area around Spitak. The earthquakes hit an area 80 km in diameter including the towns of Leninakan, Stepanavan, Kirovakan, and Spitak (Republic of Armenia). The region is part of a broad seismic zone stretching from Turkey to the Arabian Sea near India. Here, the Arabian land mass is slowly colliding with the Eurasian plate and thrusting up the Caucasus Mountains in the north. The earthquake occurred along a fairly small thrust fault running northwest-southeast, apparently right under Spitak. During the earthquake, the Spitak section to the northeast of the fault rode up over the southwest side. Geologists have located a 1.6 meter-high, 8-km long scarp just southeast of Spitak where fault movement broke the surface. The earthquake epicenter was located in the Lesser Caucasus highlands, 80 km south of the main range of the Caucasus Mountains. Historically, this area has experienced damaging earthquakes. In 1899 and 1940, damaging earthquakes occurred within 100 km of the 1988 epicenter. These events had magnitudes of 5.3 and 6.0 respectively. In 1920, a 6.2 magnitude earthquake that killed forty people occurred north of Spitak. In 1926, an earthquake of about magnitude 5.6 occurred 20 km southwest of Leninakan and reportedly caused more than 300 deaths and extensive damage. Despite its moderate size, the deaths and damage that the December 1988 earthquake caused made it the largest earthquake disaster since the 1976 magnitude 7.8 earthquake in Tangshan, China, that killed more than 240,000 people. The Town of Spitak (population 25,000) was nearly leveled and more than half of the structures in the City of Leninakan (population 250,000) were damaged or destroyed. Damage also occurred in Stepanavan and Kirovakan and other smaller cities. Direct economic losses were put at $14.2 billion (U.S.) at the United Nations official exchange rate. Twenty-five thousand were killed and 15,000 were injured by the earthquake. In addition 517,000 people became homeless. However, 15,000 people were rescued. Most of these rescues were made within the first few hours following the disaster. Many factors contributed to the magnitude of the disaster, including freezing temperatures, time of day, soil conditions, and inadequate building construction. A large number of medical facilities were destroyed, killing eighty percent of the medical professionals. In this earthquake, both design deficiencies and flawed construction practices were blamed for the large number of building collapses and resulting deaths. Many of the modern multi-storied buildings did not survive. Soil conditions also contributed to building failures. The high death rate may in part be attributed to the way the buildings fell apart. When concrete floor panels about three feet wide collapsed into compact rubble piles, little open space was left where trapped people might survive. The proportion of survivors trapped in the rubble of multi-storied buildings was approximately 3.5 times higher for the ground floor than for higher floors. The collapse of a large number of apartments-which had many occupants on upper floors-added to the number of fatalities. While the earthquake exposed the flaws in the construction, it also exposed the good in people. International teams cooperated in rescue efforts and people around the world contributed financial aid. With undaunted determination, Armenians began to rebuild their cities and their lives.
Cite this dataset when used as a source.
Distribution Formats
Distributor
User Services


DOC/NOAA/NESDIS/NCEI > National Centers for Environmental Information, NESDIS, NOAA, U.S. Department of Commerce


303-497-6826
ngdc.info@noaa.gov
Dataset Point of Contact
Hazards Data Manager
DOC/NOAA/NESDIS/NCEI> National Centers for Environmental Information, NESDIS, NOAA, U.S. Department of Commerce
haz.info@noaa.gov

Time Period:
Unknown to Unknown
Spatial Bounding Box Coordinates:

N: 41

S: 40.48

E: 44.3

W: 44.16
Documentation links not available.
Date(s)
Edition:
First
Dataset Progress Status
Complete
Data Update Frequency:
Irregular
Purpose:
To provide long-term scientific data stewardship for the Nation's geophysical data, ensuring quality, integrity, and accessibility.
Originator(s)

DOC/NOAA/NESDIS/NGDC > National Geophysical Data Center, NESDIS, NOAA, U.S. Department of Commerce (comp)

Publisher(s)

DOC/NOAA/NESDIS/NCEI > National Centers for Environmental Information, NESDIS, NOAA, U.S. Department of Commerce

National Geophysical Data Center

Acknowledgment(s)
Theme keywords

NASA/GCMD Earth Science Keywords

EARTH SCIENCE > SOLID EARTH > Seismology > Earthquake Occurrences
EARTH SCIENCE > SOLID EARTH > Tectonics > Faults

INFOTERRA Keyword Thesaurus

Disasters > Catastrophic phenomena > Earthquakes
Lithosphere > Faults > Faults
Lithosphere > Seismic activity > Seismic activity

Uncontrolled Keywords

Photo
Natural Hazard
Interior & Crust

Data Center keywords

Global Change Master Directory (GCMD) Data Center Keywords

DOC/NOAA/NESDIS/NCEI > National Centers for Environmental Information, NESDIS, NOAA, U.S. Department of Commerce
DOC/NOAA/NESDIS/NGDC > National Geophysical Data Center, NESDIS, NOAA, U.S. Department of Commerce

Place keywords

Getty Thesaurus of Geographic Names

Project keywords

Global Change Master Directory (GCMD) Project Keywords

ICSU-WDS > International Council for Science - World Data System
Use Constraints

Access Constraints: None Use Constraints: None Distribution Liability: While every effort has been made to ensure that these data are accurate and reliable within the limits of the current state of the art, NOAA cannot assume liability for any damages caused by any errors or omissions in the data, nor as a result of the failure of the data to function on a particular system. NOAA makes no warranty, expressed or implied, nor does the fact of distribution constitute such a warranty.

Access Constraints

Access Constraints: None Use Constraints: None Distribution Liability: While every effort has been made to ensure that these data are accurate and reliable within the limits of the current state of the art, NOAA cannot assume liability for any damages caused by any errors or omissions in the data, nor as a result of the failure of the data to function on a particular system. NOAA makes no warranty, expressed or implied, nor does the fact of distribution constitute such a warranty.

Fees

$25.00 plus handling and shipping outside the USA
Lineage information for: repository

| | |
| --- | --- |
| Processing Steps | 2015-04-22T00:00:00 - NOAA created the National Centers for Environmental Information (NCEI) by merging NOAA's National Climatic Data Center (NCDC), National Geophysical Data Center (NGDC), and National Oceanographic Data Center (NODC), including the National Coastal Data Development Center (NCDDC), per the Consolidated and Further Continuing Appropriations Act, 2015, Public Law 113-235. NCEI launched publicly on April 22, 2015. |
Last Modified: 2015-10-14