Eruption of Mount St. Helens, May 18, 1980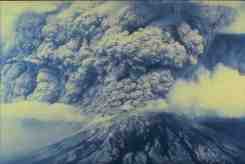 The May 18 eruption, viewed from the east in late morning. The eruptive cloud rose to an altitude of more than 12 miles in ten minutes. The swirling ash particles in the eruptive cloud generated lightning which in turn started forest fires. Other fires were ignited by the initial blasts and later pyroclastic flows. Ash can be seen falling out of the cloud. Nearly 550 million tons of ash fell over a 22,000 square mile area on May 18.
The May 18, 1980 eruption of Mount Saint Helens was the most destructive in the history of the United States. Mt. Saint Helens is located in southwest Washington in the Cascade Range, a mountain range dominated by periodically active volcanic peaks. In addition to photos taken on May 18, 1980, this slide set includes images of pre-eruption activity and post-eruption effects such as the blast area, mud flows, ash fall, and altered terrain. The Juan de Fuca Plate is colliding with the North American Plate in the Cascadia Subduction Zone off the coast of Oregon and Washington. Geologists and volcanologists had been studying Mount Saint Helens in the 1970s and had predicted an eruption before the end of the century. The mountain had been recognized as a dormant volcano that had erupted intermittently from 1831 to 1857. The Klickitat Indians of the Pacific Northwest called Mount Saint Helens "Louwala-Clough" or Smoking Mountain. However, the beautiful snow-covered peak looked serene to the casual observer just days before the start of eruptive activity. On March 20, 1980, seismographs in Washington and Oregon began recording earthquakes and a rhythmic ground shaking known as harmonic tremor (anindicator of the subsurface motion of gases or magma). A series of phreatic (steam) eruptions began on March 27. Shortly after the start of eruptive activity geologists noticed another sinister indicator of impending disaster. The north flank of the mountain had begun to swell. Aerial photos indicated that this bulge increased the height of some areas of the north side of the mountain by more than 450 feet. On May 18, the bulge collapsed, triggering the eruption. The sequence of events on May 18 began with a magnitude 5.1 earthquake. The shaking caused a massive landslide on the unstable north side-one of the largest landslides in historic times. Removal of this overburden resulted in the release of trapped gases that combined with steam from water, melted ice, and snow. This massive uncorking of the volcano produced a lateral blast that downed trees up to 19 miles from the volcano. The blast hurled nearly a cubic mile of Mount Saint Helens across the landscape and into the atmosphere. The mountain lost about one-seventh of its original height, dropping from 9,700 feet to 8,400 feet. An ash cloud of new magmatic material and steam reached an altitude of more than 16 miles in ten minutes. The cloud, driven by the prevailing winds, traveled in an east-northeasterly direction and deposited ash in eleven states and reached as far east as Wisconsin. Pyroclastic flows (gravity flows of volcanic material that has been explosively ejected from a volcanic event) periodically poured out of thecrater and down the north flank into the valley below. These flows, along wth hot ash and debris, began melting the snow and ice that remained onthe flanks of the mountain. The debris-filled water, together with ground water and rain water, raised Spirit Lake 200 feet and created mudflows which moved down the Toutle River valley and the Pine Creek drainage. The eruption resulted in scores of injuries and the loss of 60 lives. The lateral blast, debris avalanche, mudflows, and flooding caused extensive damage. All buildings and related man-made structures in the vicinity of Spirit Lake were damaged or buried. Two hundred houses were destroyed and many more were damaged in Skamania and Cowlitz Counties, leaving many homeless. Many tens of thousands of acres of forest land as well as recreational sites, trails, and four billion board feet of salable timber were destroyed or damaged. More than 185 miles of highways and roads and 15 miles of railways were destroyed or extensively damaged. Wildlife suffered heavily in the area. Many agricultural crops were destroyed downwind of the volcano. State and Federal agencies estimated that over 2.4million cubic yards of ash, equivalent to 900,000 tons in weight, were removed from highways and airports at a cost of $2.2 million. The total cost of the destruction and damage caused by Mount Saint Helens was about $1 billion.
Cite this dataset when used as a source.
Distribution Formats
Distributor
User Services


DOC/NOAA/NESDIS/NCEI > National Centers for Environmental Information, NESDIS, NOAA, U.S. Department of Commerce


303-497-6826
ngdc.info@noaa.gov
Dataset Point of Contact
Hazards Data Manager
DOC/NOAA/NESDIS/NCEI> National Centers for Environmental Information, NESDIS, NOAA, U.S. Department of Commerce
haz.info@noaa.gov

Time Period:
1980-03-00 to 1983-05-00
Spatial Bounding Box Coordinates:

N: 46.2

S: 46.2

E: -122.18

W: -122.18
Documentation links not available.
Date(s)
Edition:
First
Dataset Progress Status
Complete
Data Update Frequency:
Not planned
Purpose:
Make available Damage Photos for research and education
Originator(s)

DOC/NOAA/NESDIS/NGDC > National Geophysical Data Center, NESDIS, NOAA, U.S. Department of Commerce (comp)

Publisher(s)

DOC/NOAA/NESDIS/NCEI > National Centers for Environmental Information, NESDIS, NOAA, U.S. Department of Commerce

National Geophysical Data Center

Acknowledgment(s)
Theme keywords

NASA/GCMD Earth Science Keywords

EARTH SCIENCE > SOLID EARTH > Volcanoes > Eruption Dynamics
EARTH SCIENCE > SOLID EARTH > Volcanoes > Lava
EARTH SCIENCE > SOLID EARTH > Volcanoes > Magma
EARTH SCIENCE > SOLID EARTH > Volcanoes > Pyroclastics
EARTH SCIENCE > SOLID EARTH > Volcanoes > Volcanic Ash/Dust

INFOTERRA Keyword Thesaurus

Lithosphere > Seismic activity > Seismic activity
Lithosphere > Volcanoes > Volcano

Data Center keywords

Global Change Master Directory (GCMD) Data Center Keywords

DOC/NOAA/NESDIS/NCEI > National Centers for Environmental Information, NESDIS, NOAA, U.S. Department of Commerce
DOC/NOAA/NESDIS/NGDC > National Geophysical Data Center, NESDIS, NOAA, U.S. Department of Commerce

Place keywords

Getty Thesaurus of Geographic Names

North and Central America > United States > Washington > Skamania > Mount Saint Helens

Project keywords

Global Change Master Directory (GCMD) Project Keywords

ICSU-WDS > International Council for Science - World Data System
Use Constraints

Access Constraints: None Use Constraints: None Distribution Liability: While every effort has been made to ensure that these data are accurate and reliable within the limits of the current state of the art, NOAA cannot assume liability for any damages caused by any errors or omissions in the data, nor as a result of the failure of the data to function on a particular system. NOAA makes no warranty, expressed or implied, nor does the fact of distribution constitute such a warranty.

Access Constraints

Access Constraints: None Use Constraints: None Distribution Liability: While every effort has been made to ensure that these data are accurate and reliable within the limits of the current state of the art, NOAA cannot assume liability for any damages caused by any errors or omissions in the data, nor as a result of the failure of the data to function on a particular system. NOAA makes no warranty, expressed or implied, nor does the fact of distribution constitute such a warranty.

Fees

$25.00 plus handling and shipping outside the USA
Lineage information for: repository

| | |
| --- | --- |
| Processing Steps | 2015-04-22T00:00:00 - NOAA created the National Centers for Environmental Information (NCEI) by merging NOAA's National Climatic Data Center (NCDC), National Geophysical Data Center (NGDC), and National Oceanographic Data Center (NODC), including the National Coastal Data Development Center (NCDDC), per the Consolidated and Further Continuing Appropriations Act, 2015, Public Law 113-235. NCEI launched publicly on April 22, 2015. |
Last Modified: 2015-10-14