Papua New Guinea Tsunami, July 17, 1998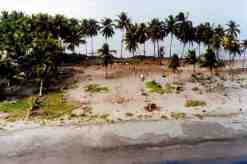 The sand spit where the Arop village stood. Waves flattened the house foundation posts and younger coconut palms. A pool of water near the lagoon marks a depression where cavitation effects of the waves have removed houses and soil.
On the evening of Friday July 17, 1998, a magnitude Ms 7.1 earthquake occurred near the northwest coast Papua New Guinea 850 km (510 miles ) northwest of Port Moresby, the capitol of Papua New Guinea (PNG). The earthquake, which occurred at 6:49 PM local time, was followed by a series of three catastrophic tsunami waves that devastated the villages of Sissano, Warupu, Arop and Malol on the north coast of PNG killing at least 2,182, injuring 1,000, and displacing more than 10,000. The villages of Arop and Warupu were entirely destroyed. Aitape and Malol were demolished or damaged. Survivorswere reportedly lifted off their feet, tossed around, and stripped of their clothes. Some victims were found impaled on mangrove stumps, andothers received deep cuts from metal debris. Several lessons were immediately obvious from this tsunami: Ground shaking and loud sounds from the sea provided tsunami warnings that were largely unheeded by area inhabitants unfamiliar with tsunamis. Spits between lagoon areas and the sea are particularly prone to damage from tsunamis and should be avoided in rebuilding after the tsunamis. Trees and mangroves apparently exacerbated rather than reduced the impact of the waves with the exception of coconut palms. Tsunami energy is not dissipated by lagoons. The most likely cause of the tsunami is a sediment slump 25 km offshore caused by the earthquake. This event is the largest known tsunami ever to have occurred in the area although the tsunami/earthquake history dates only from 1900.
Cite this dataset when used as a source.
Distribution Formats
Distributor
User Services


DOC/NOAA/NESDIS/NCEI > National Centers for Environmental Information, NESDIS, NOAA, U.S. Department of Commerce


303-497-6826
ngdc.info@noaa.gov
Dataset Point of Contact
Hazards Data Manager
DOC/NOAA/NESDIS/NCEI> National Centers for Environmental Information, NESDIS, NOAA, U.S. Department of Commerce
haz.info@noaa.gov

Time Period:
1998-07-17 to 1998-07-17
Spatial Bounding Box Coordinates:

N: -2.9

S: -2.9

E: 141.9

W: 141.9
Documentation links not available.
Date(s)
Edition:
First
Dataset Progress Status
Complete
Data Update Frequency:
Not planned
Purpose:
To provide long-term scientific data stewardship for the Nation's geophysical data, ensuring quality, integrity, and accessibility.
Originator(s)

DOC/NOAA/NESDIS/NGDC > National Geophysical Data Center, NESDIS, NOAA, U.S. Department of Commerce (comp)

Publisher(s)

DOC/NOAA/NESDIS/NCEI > National Centers for Environmental Information, NESDIS, NOAA, U.S. Department of Commerce

National Geophysical Data Center

Acknowledgment(s)
Theme keywords

NASA/GCMD Earth Science Keywords

EARTH SCIENCE > OCEANS > Coastal Processes > Erosion
EARTH SCIENCE > OCEANS > Ocean Waves > Tsunamis

INFOTERRA Keyword Thesaurus

Disasters > Catastrophic phenomena > Seismic sea waves

Data Center keywords

Global Change Master Directory (GCMD) Data Center Keywords

DOC/NOAA/NESDIS/NCEI > National Centers for Environmental Information, NESDIS, NOAA, U.S. Department of Commerce
DOC/NOAA/NESDIS/NGDC > National Geophysical Data Center, NESDIS, NOAA, U.S. Department of Commerce

Place keywords

NASA/GCMD Location Keywords

Project keywords

Global Change Master Directory (GCMD) Project Keywords

ICSU-WDS > International Council for Science - World Data System
Use Constraints

Access Constraints: None Use Constraints: None Distribution Liability: While every effort has been made to ensure that these data are accurate and reliable within the limits of the current state of the art, NOAA cannot assume liability for any damages caused by any errors or omissions in the data, nor as a result of the failure of the data to function on a particular system. NOAA makes no warranty, expressed or implied, nor does the fact of distribution constitute such a warranty.

Access Constraints

Access Constraints: None Use Constraints: None Distribution Liability: While every effort has been made to ensure that these data are accurate and reliable within the limits of the current state of the art, NOAA cannot assume liability for any damages caused by any errors or omissions in the data, nor as a result of the failure of the data to function on a particular system. NOAA makes no warranty, expressed or implied, nor does the fact of distribution constitute such a warranty.

Fees
Lineage information for: repository

| | |
| --- | --- |
| Processing Steps | 2015-04-22T00:00:00 - NOAA created the National Centers for Environmental Information (NCEI) by merging NOAA's National Climatic Data Center (NCDC), National Geophysical Data Center (NGDC), and National Oceanographic Data Center (NODC), including the National Coastal Data Development Center (NCDDC), per the Consolidated and Further Continuing Appropriations Act, 2015, Public Law 113-235. NCEI launched publicly on April 22, 2015. |
Lineage information for: Scope not available.

| | |
| --- | --- |
| Processor | DOC/NOAA/NESDIS/NGDC > National Geophysical Data Center, NESDIS, NOAA, U.S. Department of Commerce |
Last Modified: 2015-10-14