Izmit (Kocaeli) Turkey Earthquake, August 17 1999. Set 1, Coastal Effects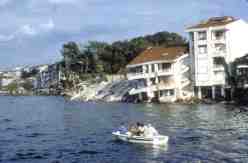 Guzelyali is a small fishing harbor on the south shore of Izmit Bay. The harbor is located behind a breakwater. According to reports, a leading depression wave was followed by a tsunami overtopping the seawall in the back of the harbor, causing small boats to lose their mooring lines. When the sea wall was measured, a height of 1.25 m was obtained for the tsunami. The entire harbor was covered with a 2.5 cm to 15 cm (1-6 inch) thick layer of oil that may have come from the large refinery fire across Izmit Bay.A tsunami flooded this collapsed building east of Guzelyali. Subsidence along the shoreline made the piers and moorings unsafe. Tsunami data collectors had to approach the shore by boat to take measurements of tsunami runup. Partially submerged trees are visible in the left background.
On August 17, 1999, at 3:02 am local time (00:02 GMT) a magnitude (Mw) 7.4 earthquake occurred on the northern Anatolian fault. The epicenter was located very close to the south shore of the Bay of Izmit, an eastward extension of the Marmara Sea. The location of this earthquake and its proximity to a populous region on the Bay of Izmit contributed greatly to its damaging effects. The total estimated loss for port facilities in the region was around $200 million (US). Subsidence and slumping caused much of the coastal damage, but a tsunami was generated that also caused coastal damage and deaths.
Cite this dataset when used as a source.
Distribution Formats
Distributor
User Services


DOC/NOAA/NESDIS/NCEI > National Centers for Environmental Information, NESDIS, NOAA, U.S. Department of Commerce


303-497-6826
ngdc.info@noaa.gov

Dataset Point of Contact
Hazards Data Manager


DOC/NOAA/NESDIS/NCEI> National Centers for Environmental Information, NESDIS, NOAA, U.S. Department of Commerce


haz.info@noaa.gov

Time Period:
Unknown to Unknown
Spatial Bounding Box Coordinates:

N: 40.48

S: 40.3

E: 29.5

W: 29.3
Documentation links not available.
Date(s)
Dataset Progress Status
Complete
Data Update Frequency:
Not planned
Purpose:
Make available damage photos for research and education
Originator(s)

DOC/NOAA/NESDIS/NGDC > National Geophysical Data Center, NESDIS, NOAA, U.S. Department of Commerce (comp)




Publisher(s)

DOC/NOAA/NESDIS/NCEI > National Centers for Environmental Information, NESDIS, NOAA, U.S. Department of Commerce

NOAA/NESDIS/National Geophysical Data Center

Acknowledgment(s)
Theme keywords
NASA/GCMD Earth Science Keywords

EARTH SCIENCE>SOLID EARTH>Seismology>Earthquake Occurrences
EARTH SCIENCE>SOLID EARTH>Tectonics>Faults
EARTH SCIENCE>Oceans>Ocean Waves>Tsunamis

INFOTERRA Keyword Thesaurus

Lithosphere>Seismic Activity>Seismic Activity
Disasters>Catastrophic Phenomena>Earthquakes
Disasters>Catastrophic Phenomena>Seismic Sea Waves
Disasters>Catastrophic Phenomena>Tsunamis

Data Center keywords
Global Change Master Directory (GCMD) Data Center Keywords

DOC/NOAA/NESDIS/NCEI > National Centers for Environmental Information, NESDIS, NOAA, U.S. Department of Commerce
DOC/NOAA/NESDIS/NGDC > National Geophysical Data Center, NESDIS, NOAA, U.S. Department of Commerce

Place keywords
Getty Thesaurus of Geographic Names

Asia > Turkey > Marmara > Kocaeli > Izmit

Project keywords
Global Change Master Directory (GCMD) Project Keywords

ICSU-WDS > International Council for Science - World Data System
Use Constraints

Access Constraints: None Use Constraints: None Distribution Liability: While every effort has been made to ensure that these data are accurate and reliable within the limits of the current state of the art, NOAA cannot assume liability for any damages caused by any errors or omissions in the data, nor as a result of the failure of the data to function on a particular system. NOAA makes no warranty, expressed or implied, nor does the fact of distribution constitute such a warranty.

Access Constraints

Access Constraints: None Use Constraints: None Distribution Liability: While every effort has been made to ensure that these data are accurate and reliable within the limits of the current state of the art, NOAA cannot assume liability for any damages caused by any errors or omissions in the data, nor as a result of the failure of the data to function on a particular system. NOAA makes no warranty, expressed or implied, nor does the fact of distribution constitute such a warranty.

Fees
Lineage information for: repository

| | |
| --- | --- |
| Processing Steps | 2015-04-22T00:00:00 - NOAA created the National Centers for Environmental Information (NCEI) by merging NOAA's National Climatic Data Center (NCDC), National Geophysical Data Center (NGDC), and National Oceanographic Data Center (NODC), including the National Coastal Data Development Center (NCDDC), per the Consolidated and Further Continuing Appropriations Act, 2015, Public Law 113-235. NCEI launched publicly on April 22, 2015. |
Last Modified: 2015-10-14