Bathymetry of Lake Ontario Map Earns International Award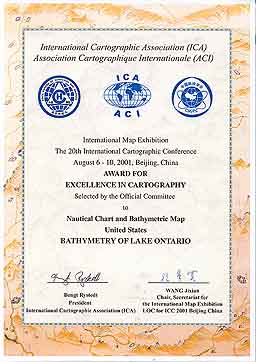 The Poster Bathymetry of Lake Ontario won an award for excellence in cartography at the 20th International Cartographic Congress (ICC) held in August 2001 in Beijing, China. The ICC, sponsored by the International Cartographic Association, holds an International Map Exhibition as part of the technical program of the Conference. Over 1200 maps and atlases were entered by 30 countries in eight categories including nautical, urban, and topographic maps. There were 70 maps entered by the U.S. in all categories and the Bathymetry Map of Ontario won best nautical map out of over 50 entries in this category.
The new bathymetry of Lake Ontario bathymetry was a collaborative effort between scientists at the NOAA National Geophysical Data Center (NGDC) (now the National Centers for Environmental Information (NCEI)), the NOAA Great Lakes Environmental Research Laboratory (GLERL), the Canadian Hydrographic Service, and the University of Colorado Cooperative Institute for Research in Environmental Sciences (CIRES). More Information.

Great Lakes Bathymetry Page