World Data Service for Geophysics
Marine Geology and Geophysics
Animations of Dives to Selected Ocean Floor Features
Choose a link above to go to the Web page for that seafloor feature. Instructions and animations of multiple resolutions are offered for download from these pages. The animations require QuickTime version 7.0 or higher (Download QuickTime from the Apple Web Site).

A note about vertical exaggeration in the animations: These videos have the vertical dimension strongly exaggerated to further enhance the visual effect. Click on the image below to see a real cross section compared with an exaggerated cross section.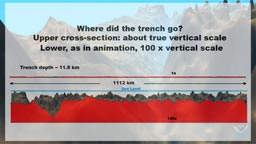 These animations were produced by Dr. Peter Sloss, formerly of NOAA's National Geophysical Data Center (NGDC), from actual digital bathymetric data archived by, and available through NCEI.
If you use these animations, please credit NOAA/NCEI.