National Geodetic Survey - CORS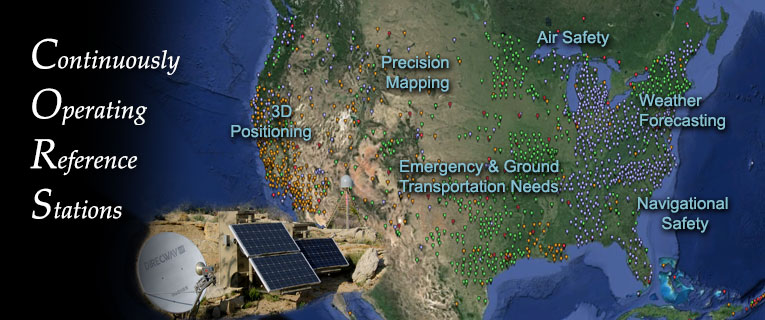 The National Geodetic Survey (NGS), an office of NOAA's National Ocean Service (NOS),coordinates a network of Continuously Operating Reference Stations (CORS) that provide Global Positioning System (GPS) measurements in support of a broad spectrum of navigation and positioning applications in the U.S. and its territories.

Through a Memorandum of Agreement, NCEI operates the alternate CORS facility in parallel with the main NGS CORS facility in Silver Spring, MD. NCEI also archives CORS data, as per the NOAA/NOS Records Disposition Schedule, section 1602-12.

National Geodetic Survey's CORS main website (external link)

National Geodetic Survey's CORS parallel website (external link)
Further information can be found in the CORS metadata: XML / HTML

NEWS: CORS at-sampling data available from NOAA's Comprehensive Large Array-Data Stewardship System (CLASS)

NCEI, in coordination with the NGS, has improved user accessibility to historical CORS 'at-sampling-rate' data via NOAA's Comprehensive Large Array-Data Stewardship System (CLASS) infrastructure. In normal operations, NGS decimates CORS GPS data older than 30 days to a 30-second sampling rate in its online holdings, and hands off the at-sampling rate files older than 31 days to the NCEI archive. Previously, a user sent in an email request for at-sampling historical CORS data that was manually fulfilled by NCEI staff. As of June 2013, NCEI has completed migration of the CORS historical data into CLASS. CLASS allows users direct and automated access to the CORS at-sampling-rate archive.

Orders made through the CLASS system may take one day or longer to fulfill. Access the CLASS website under "Search for Data", under the "Global Navigation Satellite Systems (GNSS)" pull-down menu. Or use CORS Search. For more information: