Core data from the Ocean Drilling Program legs 101-129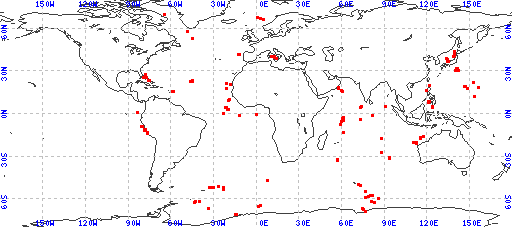 Geographic areas in which ODP data were collected legs 101-129
Choose from the list below or click on the map above to jump to an area.
[View more extensive site maps generated by ODP]
(no data access)
Geographic areas for individual sites/holes were derived from the site summary data file produced by the ODP. Choose a geographic area to display a map of the area showing sites in the area as red dots, as well as a tabular list of sites/holes. The map is a clickable imagemap. The tabular lists are sorted by latitude, then longitude. When you select a hole from the list or map, more information and links to all available data for the hole will be displayed.
introduction | data types | geographic areas | legs/sites/holes | sites/holes
Cite as: Ocean Drilling Program (1992): Archive of Historic Core Data from the Ocean Drilling Program (ODP) Legs 101-129 (Pre-JANUS). National Geophysical Data Center, NOAA. doi:10.7289/V50V89RB
*The current web version of the ODP CD-ROM has been modified to provide access to related resources, and to update links and organizational information.